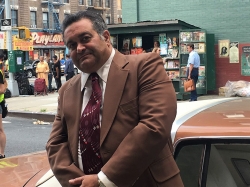 Jersey City, NJ, August 20, 2018 --(
PR.com
)-- The Deuce actor slated to attend Golden Door Film Festival with 2 Films.
Garry Pastore stars in John Gallagher film, "Sarah Q" & short Therapy Bro at Festival.
Garry Pastore who portrays the legendary Genovese Crime Family Boss Matty "The Horse" Ianniello so convincingly in HBO's second season of The Deuce premiering this September 9 has decided to shake things up a bit. He portrays NYPD Detective John Belson in John Gallagher's, "Sarah Q" which will be making its World Premiere at The Golden Door International Film Festival in Jersey City, NJ, the weekend of September 21st.
Pastore says, "It was a no brainer to take on this polar opposite role working with fellow actors Burt Young, Sally Kirkland and The Sopranos, Tony Sirico, Vincent Pastore and Federico Castelluccio. The cast is rounded out with newcomers Emmy James as Sarah and Ashlee Macropoulos. There is also a sprinkling of some notable veterans like Joseph Donofrio, George Andreakos, Ari Barkin and Paul Borghese.
· This will be Pastore's third collaboration with writer/director Gallagher.
· In addition, Pastore is in the Award-Winning Comedy Short, "Therapy Bro" helmed by John Hedlund, which has already garnered Pastore a best supporting actor award at The Hold Onto Your Shorts Festival earlier this year in Asbury Park.
· Pastore was recently seen as Mayor John Barone in the Netflix exclusive "The Week Of" and will be in Scorsese's highly anticipated "The Irishman" in 2019.
Additional information:
Garry Pastore is repped by Encompass Arts in NY and Lisa Lax Agency of NY/Memphis. Pastore is the founder of Willowcreek Entertainment, a full-scale production company. Public relations by Luminous PR of NY/Belgium.