New Premier Apartments in Downtown Lafayette Are Completed and Move-In Ready; Putting a MARQ on the Lafayette Riverfront
MARQ is open and ready for residents. The new space features 99 apartments with unique floorplans crafted to make the most of city views and lifestyles, all with top-shelf amenities like large balconies, premium appliances, and contemporary closet systems. Studios, 1-bedrooms and 2-bedrooms are available. Call today to set up a tour!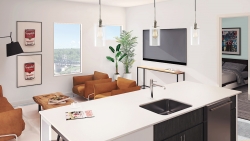 Lafayette, IN, August 23, 2018 --(
PR.com
)-- Deylen Realty is proud to announce the opening of its premier apartment homes at MARQ, located at 101 Main Street in downtown Lafayette, Indiana. Lafayette is the fastest growing city in the state of Indiana, and is predicted to continue that growth through at least 2020, so MARQ's opening comes at an opportune moment. MARQ offers Lafayette residents a unique urban, walkable, living experience traditionally reserved for larger cities. MARQ includes a variety of floorplans ranging from studios to two-bedrooms; built specifically for city dwellers in beautiful downtown Lafayette.
MARQ is at the center of downtown Lafayette along the City's new Riverfront Promenade. Following the successful spring opening of Old National Bank's Regional Headquarters, MARQ apartments are finished and ready to lease. Featuring 99 apartments with unique floorplans crafted to make the most of City and Wabash river views, all with high-end finishes including large balconies, premium appliances, custom cabinetry, quartz countertops, ensuite bathrooms, high ceilings, and custom closet systems.
Apartment amenities include:
- Secure indoor parking with assigned parking spots
- Pet-friendly
- In-Unit Washer and Dryer
- Workout Room
- Resident Lounge Area
- Private Green Roof Terrace with Grill
- Bike Parking and Maintenance Area
- Dog Wash Station
- Storage Rooms
- Walk-in Custom Closet Systems
MARQ is located within steps of Riehle Plaza's Amtrak Station, the pedestrian bridge to West Lafayette, the Courthouse, the CityBus Center, and downtown's abundance of fun and fine dining, shopping, and live entertainment. In addition, the northeast corner of the first floor will soon feature Bru Burger Bar - a Cunningham Restaurant Group eatery.
"This really does become a downtown landmark, a downtown focal point," Roswarski said in 2015 when MARQ was announced. "I really think it will spur downtown development. It will be a nice catalyst."
"Deylen Realty is very excited to have become a part of the amazing Lafayette community. We owe great thanks to the City for their direction and dedication to making upgrades to the existing downtown. Our focus has always been on bringing a modern style and walkability to the local businesses and upscale living to up and coming downtown neighborhoods. Lafayette is a thriving, growing city and our goal is to help with the economic growth by recruiting new talent for major employers throughout the City including Purdue, IU Health and Subaru. We are excited to add to the downtown life of Lafayette and add an architectural attraction to the City for generations to come," Craig Von Deylen, President, Deylen Realty.
For additional information and images of the MARQ please visit
www.liveatmarq.com
. If you are looking to move or would like more information on units at MARQ please contact Property Manager Megan DiVello, directly at 765-330-5151 or info@deylen.com.
About Deylen Realty: www.deylen.com
Deylen Realty is a family-owned, Indianapolis based development and management firm with more than twenty years of experience working within the residential, office and mixed-use market. Deylen has worked with local communities to revitalize historic commercial areas and redevelop properties in thriving urban locations. Based on walkability and idiosyncrasies in the marketplace, the Deylen approach is to build on those assets and capture those redevelopment opportunities. Because Deylen remains the long-term owner and manager of their properties, they are able to create distinctive designs and utilize the highest quality materials and finishes. As the developer of several urban infill and redevelopment projects, Deylen has been able to connect their direct experience with your community's needs.
Many of Deylen's properties are located on the southeast side of urban Indianapolis in the Fletcher Place, Holy Rosary, and Fountain Square neighborhoods. The company is known for a number of developments there such as the Hinge and Slate, as well as the award-winning Fletcher Place Lofts development, which transformed a historic former church and community center into New York style lofts. Deylen Realty is committed to the revitalization of urban areas and is willing to invest in their future financially.
Principals include Craig Von Deylen, Todd Von Deylen and Trinity Hart.
Deylen Roles: Project Lead, Site Planning, Development / Redevelopment Planning, Project Financing Strategies and Guarantor.
Contact
Deylen Realty
Shelley Veazie
317-638-2000
deylen.com
shelley@deylen.com

Contact