San Diego CEO, Jason Kulpa Announces Community Scholarship Winner
Jason Kulpa announces community scholarship winner to help young community leaders attain their educational goals.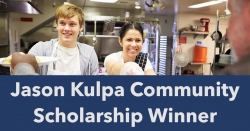 San Diego, CA, August 22, 2018 --(
PR.com
)--
Jason Kulpa
, Founder and CEO of UE.co, is pleased to announce the winner of
The Jason Kulpa Community Scholarship
. This year's winner is Ben Levicki, a student at Carthage College.
To qualify for the scholarship, applicants were asked to write a 500-word essay around the topic, "How has your community involvement made you think differently about yourself, others, and the world around us." Levicki won the scholarship after describing the specific moment that showed him the importance of giving back to the community.
Levicki, about to enter his junior at Carthage College, credits one young boy who forewent all the toys on his personal wish list in order to buy gifts for his siblings and mother as the initial spark to give back his time and resources to the community. Inspired by the young boy, Levicki now plays an active role in the Kenosha, Wisconsin community by giving up his time to coach and mentor youth, as well as volunteer at city-wide events such as National Night Out.
The Jason Kulpa Scholarships began as financial tools for young entrepreneurs to achieve their dreams at a time when the average college education costs around $50,000.
"I started the Community Scholarship in order to celebrate the youth that see the value of empowering and giving back to those around them," said Jason Kulpa. "I wish Ben the best of luck with the rest of his collegiate career and look forward to seeing how he plans to use his."
"Giving back to the community has always been a priority for me throughout my college experience," said Levicki. "With this scholarship, I can devote more of my time to empowering youth in financial crisis."
Contact
UE.co
Laura Donaldson
619.269.3140
https://ue.co
Address: 808 J St. San Diego CA 92101

Contact