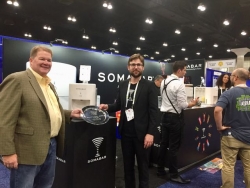 Los Angeles, CA, August 28, 2018 --(
PR.com
)-- Somabar has created the first robotic bartending assistant for restaurants, hotel rooms and lounges. Winner of the 2018 "People's Choice Award" at the Western Foodservice and Hospitality Expo, Somabar is helping the restaurant industry control beverage service with reduced waste, zero theft and faster service.
Somabar spent three years developing its award-winning technology and is shipping the first restaurant units at the end of September 2018. The public (made up of restaurant industry professionals) was invited to demo Somabar for the first time at the Western Foodservice & Hospitality Expo in the Los Angeles Convention Center from August 19 to 21, 2018, and overwhelmingly voted Somabar as the "People's Choice Award" out of thousands of products. For more information, watch the Somabar informational video here:
https://youtu.be/fFroDiE_8bc
or visit
https://www.somabar.com/
.
About Somabar: Somabar is a robotic bartending assistant that contains an unlimited and customizable digital bar menu able to make any listed cocktail in 10 seconds from the Somabar machine. The technology features automated cleaning and is virtually indestructible, rated for 1500 hours of continual use, the equivalent of 500,000 drinks. Industry beta testing conducted at various restaurant locations in Los Angeles have indicated that Somabar increases beverage revenue by 30% (on average) and decreases beverage labor costs by 65% (on average).
MediaKit:
www.dropbox.com/sh/3potr9jfn0vkrfh/AAD61OdbohNY8uKNGF3TTcOra
Somabar
Contact: Nelton Wu
info@somabar.com