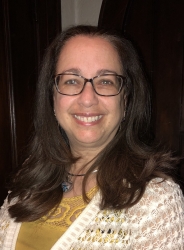 Fair Lawn, NJ, September 01, 2018 --(
PR.com
)-- Nancy E. Aronson of Fair Lawn, New Jersey has been honored as a Rising Star by P.O.W.E.R. (Professional Organization of Women of Excellence Recognized) for her outstanding contributions and achievements in the field of financial services. These women are up and coming in their professions. They have shown exceptional growth in a short period of time. We view these women as emerging leaders who inspire and motivate others to reach for the stars.
About Nancy E. Aronson
Nancy E. Aronson has been a Technical Specialist with the Federal Reserve Bank of New York on and off since 1989. She specializes in information technology and software development. In her current role, she is responsible for problem solving, developing applications in different programming languages, providing business area support, and gathering and extracting data.
Nancy also owns a shop called Iggie's Curiosity Shoppe. She scouts local and regional estate sales and auctions, buying items she feels are unique or special that she can resell in her shop. The shop has the things you never knew you needed.
Ms. Aronson received a B.S. in Computer Science from Rensselaer Polytechnic Institute in 1988 and is currently working on her M.S. in Computer Science. One of the biggest challenges she notes as an individual contributor (non-manager) has been trying to find positions throughout her career that provide the perfect combination of interesting and challenging work, room for growth, decent work/life balance, good pay/benefits and a great boss. In her spare time, she enjoys going to auctions, antiquing, painting and making jewelry. She started sculpting and painting at age 6. She is an expert bricoleuese, highly trained in the art of using various patterns in various orientations. Her art has sold well throughout the Northeast, and she is now making her work available globally. Her website, "Neka" designs is a nickname given to her by her husband, short for Nancy Ellen Krull Aronson.
For further information, contact www.nekadesigns.net.
About P.O.W.E.R. (Professional Organization of Women of Excellence Recognized)
P.O.W.E.R is a website as well as a digital and print magazine featuring professional and famous women. Our mission is to provide a powerful network of empowering women who will mentor and inspire each other to be the best they can be. Through our valuable services, our members can collaborate with like-minded professionals, gain recognition and obtain knowledge from those who have already achieved success.