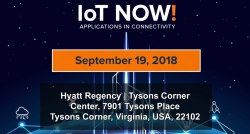 Tysons Corner, VA, September 12, 2018 --(
PR.com
)-- Alternate E Source, provider of Kentix IoT smart sensor technologies, and Blue Ridge Networks, a Northern Virginia based Cybersecurity company, today announced a partnership to add a new layer of cybersecurity to Alternate's smart building security product offerings.
Alternate E Source provides IT-based smart sensor technologies that allow for easy integration into IT environments as well as open interfaces. The integrated system solution only requires a few components. No external software is required, which saves cost and effort. The decentralized technical approach increases reliability and enables high scalability from small to large systems. Where required, IP video cameras can also be integrated into the systems seamlessly, avoiding system breaks and always providing the system administrator with synchronous alarm data.
Blue Ridge Networks' LinkGuard solution protects organizations from critical OT and IoT data networks and the communications between the devices and people that need access to them. With LinkGuard, organizations can isolate, contain, and cloak critical infrastructure within cryptographic boundaries (secure enclaves) which mitigates the risk of unauthorized access to the devices and prevents data exfiltration. Based on the Zero Trust methodology, LinkGuard enables complete and autonomous protection of critical networks by enabling the network to shield itself from cyber-attacks without knowledge of the attack vector and without user intervention. Because only previously verified users can access resources using LinkGuard, network admins are relieved of constant network monitoring and response.
Together these technologies offer state of the art security protection
Alternate's Innovative Smart Building Security products offer a new holistic concept. The portfolio includes products for environmental monitoring, online access control, equipment status and power monitoring. When required, the IoT-based systems also integrate IP video cameras and can be remote controlled from anywhere. Continuous monitoring, and real time alerting provide ultimate risk mitigation. These smart sensor devices along with IP cameras form the "end points"; the sentry devices at the physical level.
"Supplying our web-based devices layered with the Blue Ridge Networks cybersecurity products allows us to offer a complete solution to support mission critical applications," said Tanja Lewit, CEO, Alternate E Source.
Unlimited application possibilities
The combination of Alternate E Source Smart Building Security solutions and Blue Ridge Networks cybersecurity solutions are suitable for use in any business case, particularly where regulatory requirements for IT security must be fulfilled. Server and IT rooms, critical areas and even distributed telecommunication systems can be secured all-round with the combined system solutions. The growing network edge, need for micro-grids, increased critical infrastructure demands and the coming of 5G are all the reasons to utilize smart technologies and smart security. Blue Ridge Networks and Alternate E Source demonstrating joint solutions at IoT NOW! Applications in Connectivity on September 19, 2018 in Tyson's Corner.
IoT NOW: Applications in Connectivity
The Only IoT Applications Conference of its kind. This is an exclusive and intimate networking event that is tailored to attract senior executives in industries such as manufacturing, energy & utilities, healthcare, transportation, infrastructure, and more. The attendees will have the opportunity to network with peers and gain insight on what solutions to invest in for increased productivity, efficiency, and security. Conference sessions, keynote speakers, and an open floor plan creates a social atmosphere for a unique networking opportunity.
For more information, visit
IoTNowEvents.com
About Alternate E Source/ Kentix US
Alternate E Source is committed to provide Smart Technology Solutions for Mission Critical Applications, considering security, efficiency, and simple infrastructure management. We are the US facility and support Kentix professional Smart Building Security products for the physical security of mission-critical IT infrastructures. Our integrated security solutions include environmental monitoring, access control, power monitoring and IP video surveillance, remote controllable via Kentix360 Cloud and everything from a single source. The use of wireless mesh networks and modern web technology enables fast and easy system integration.
About Blue Ridge Networks
Blue Ridge Networks is a visionary cybersecurity pioneer providing proven network access, infrastructure, and endpoint security solutions. Its products isolate, contain, and protect critical operations and endpoints to provide a new layer of cybersecurity defense that eliminates or neutralizes vulnerability to cyberattacks. Blue Ridge solutions have protected critical operations for some of the largest US government, financial, healthcare, and other critical infrastructure customers for more than twenty years with no reported breaches.
Press contact:
Daniella Hurley
alternate e source/ Kentix US
Tel.: 844-536-8492 / 973-960-1097
E-Mail: daniella@alternateesource.com
Brandan Lickey
Blue Ridge Networks
Tel: 703-633-7346
E-mail: blickey@bluerdigenetworks.com