Golden Shovels Pierced the Base of Bullwhacker Hill on Friday, September 14th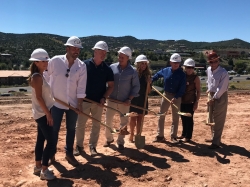 Prescott, AZ, September 14, 2018 --(
PR.com
)-- The Tanbic Company announced the official groundbreaking in Prescott this week for Winfield at The Ranch, a brand-new 100-unit class-A luxury rental community. Golden shovels pierced the base of Bullwhacker Hill on Friday, September 14, preceding the introduction of the first newly constructed apartments outside of Prescott Valley in quite some time. Located at 3470 Lee Circle, Winfield at the Ranch will rest on the side of the iconic hill, boasting spectacular views over Prescott and its stunning natural surroundings. A brief coast down the hill from your elevated abode will offer plenty of options for dining and shopping. This is especially exciting for Prescott residents, considering the town's existing limitations for rental options outside of Prescott Valley, let alone the chance to rent a brand-new apartment.
Scottsdale, AZ based developer Tanner Bickelhaupt, founder of The Tanbic Company and Brent Yates of Columbus, Ohio are teaming with Clark-Wayland on the project. Clark-Wayland is an industry leading developer highly regarded for their upscale building product and construction standards throughout the State of Arizona. The blue-chip developer has operated in Arizona for over 40 years and responsible for the delivery of over 20,000 units throughout the state. The community sits on 7 acres and will feature one-bedroom and two-bedroom rental options, ranging from 720 to 1240 square feet. The low-density development translates to spacial comfort for residents, maximizing distance between buildings and shying away from the high-density atmosphere which has become so commonplace throughout the industry. "Creating community is at the center of our purpose, and the opportunity to become a part of Prescott is truly humbling," said Tanner Bickelhaupt of The Tanbic Company. "Our organization has a deep belief that when people are able to achieve their full potential, their lives, and society in general, are elevated. We believe that this process begins in the home. The model is simple, we strive to create value for our residents within their home, which creates value for the entire community."
Stellar Residential LLC, will conduct the lease-up of The Winfield at The Ranch and manage its operations. Stellar Residential's executives have conducted the lease-up of over 60 new multifamily developments throughout Arizona and strive to bring a fresh approach to each property they manage, while tailoring each asset to the community in which it resides. "The development of Winfield at The Ranch holds significance because it is by and large the most desirable development site in Prescott, period," according to Jay Dassele, Stellar Residential's Vice President and Co-Founder. "Aside from the views which are so divine, renters have simply been destitute of opportunities to rent anything new in this part of town that is a destination-point for so many," he continued. Stellar Residential was founded by Dale Phillips and Jay Dassele whom together, possess over 45 years of operational experience influencing over 30,000 units under their leadership and delivering over 15,000 new units to the market. They currently operate in Phoenix, Scottsdale and Flagstaff and are poised to carve a national presence.
The new apartments will feature quartz countertops, hardwood plank-style flooring, 8" window walls and private balconies to fully experience the sights and easing sounds of the pines. The community will have a heated pool, dog park, gas grills and detached garages. Winfield at The Ranch will be ready for move-ins by October 2019.
Contact
Stellar Residential, LLC
Dale Phillips
602-429-6100
www.stellarresidential.com
www.winfieldranch.com

Contact