Pukka Pads Sets Up Shop in North America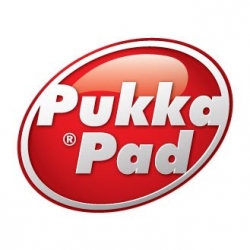 Philadelphia, PA, September 24, 2018 --(
PR.com
)-- Pukka Pads, The United Kingdom's wildly popular line of notebooks, pads, pens and stationery and amazing quality novelty items that make writing fun today announces the launch of Pukka Pads North America®.
"The move is a bold statement to the markets in the USA, Canada and Mexico that we are here to give a new branded choice for people who like fun and writing and those who are in a serious position to enjoy fashionable quality instruments for writing in a myriad of different circumstances," said Chris Stott, CEO and Founder of Pukka Pads in the U.K.
The company has been investigating how best to approach the massive markets and best serve the growing demand for quality products that enhance every part of the writing experience.
"We met in Chicago with so many very fine retailers, in a face to face setting, where we could really demonstrate the key quality elements that separate and define the Pukka Pads brand," noted Stott. "I had to tell them first off, what Pukka meant and how to pronounce it, that it meant 'Genuine' and the 'Very Best' in the U.K., from the Indian word. Then of course, I had to show them, and boy were they blown away! We were able to spend about 20 minutes each with membership clubs, like Sam's, B.J.'s and Costco, to H.E.B for America and Mexico and Staples for America and Canada, to Office Depot and so many different entities in the stationary business on this side of the world. It was all very exciting."
To head up the North American operation, Stott turned to veteran entrepreneur and consumer product marketer, Martin Uniacke. Uniacke has sold a wide range of products from the brands like: Disney, Marvel and Star Wars to Sesame Street, all four major sports licenses even to his own creations as President of McNeill Designs for Brighter Minds. "I think I have the background and skill set for the job and I believe my most relevant experience was over the last three years where I was the Director for North American Sales for Room Copenhagen, a Danish based plastics manufacturer who largely trades on the LEGO™ brand, under license. The pertinent similarities are that both are European companies trading on a well-known brand who committed to this side of the world by setting up the facilities to serve these three markets, from a base here in the USA.
"The challenge that I am most looking forward to is building the Pukka Pads brand here, seeking to emulate the success that has been seen within the UK marketplace. We are excited by the initial response and will seek to build a range that offers customers something exciting and new. From young children to executives we will have products that cross all age ranges," said Uniacke.
The company is finalizing negotiations for warehouse operations from which it will offer replenishment of stock to retailers as well full 3PL offerings including Drop-ship capabilities. While the company will offer retailers the opportunity to buy from them directly it will also deploy distributors with impeccable reputations to service key and/or niche retails channels in the USA.
"Having returned from such a lovely experience in Chicago on August 21st I am pleased to announce that we have already installed an Executive Director in Martin, strategically located in Philadelphia, with easy access to the airport and the major metropolitan centers on the East Coast. We are closing on the warehouse partner in the next 30 days, who will necessarily be positioned to service and replenish for the USA, Canada and Mexico. We've incorporated in Delaware and will be head quartered in the Philadelphia area. So, it is a pretty fair statement to say we are positioning ourselves to be entering the market for 2019 Back to School sales if not sooner," noted the CEO.
Retailer Inquiries should be directed to (610) 361-8697 or Martin.Uniacke@pukka-pads.co.uk
Contact
Pukka Pads North America
Martin A. Uniacke
610-361-8697
pukkapadsnorthamerica.com
Mobile (302) 668-9374

Contact