Load King Announces New 60-Ton Lowboy Trailer
Today, Load King LLC, the iconic manufacturer of trailers and specialized equipment, announced its LK503/605 SS SF 60-Ton Lowboy, the newest addition to the OEM's trailer and equipment portfolio.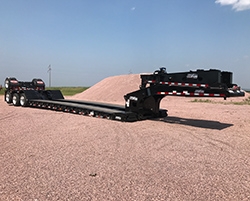 Kansas City, MO, September 25, 2018 --(
PR.com
)-- Today, Load King LLC, the iconic manufacturer of trailers and specialized equipment, announced its LK503/605 SS SF 60-Ton Lowboy, the newest addition to the OEM's trailer and equipment portfolio. The announcement marks the introduction of a new standard in the 60-Ton trailer class, as the LK503/605 SS SF features a 20" loaded deck height – the lowest in the industry – and a distinguished range of innovative features and options.
Rated at 60-Tons in 12', the 20" loaded deck height is paired with the ability to add both a 24" and 36" flip extension on the gooseneck. Combined with the ability to run two additional axles in either a close coupled-position or as a separate axle group, these features ensure operators have the right combination of axles and spacing to legally haul their load.
The last 8' of the trailer is recessed with pierced-steel plates, offering the lowest bucket well in the industry, and allowing operators to keep their height down when hauling long reach excavators. A push-pull, manual raise-and-lower valve reduces the likelihood of suspension damage, making it impossible for the bags to continue to overinflate if the valve is left in the regulated position.
The new LK503/605 SS SF is Load King's latest accomplishment on its vow to build inventive solutions designed to improve the lives of equipment and trailer customers. The LK503/605 SS SF comes in a line of several similar Load King productions unveiled in recent years, including the 18" loaded deck height 55-Ton Lowboy, and the reintroduction of the Rock Hauler Frameless End Dump with added updates such as a two-piece tub, self-shedding top rail, and double-acting air cylinders on the gates locks, which were brought to market in 2016. And, in July of 2018, the 13" loaded deck height Mechanical Detach Double Drop was introduced, which most notably also features 34'-6" deck length.
These trailers have been chapters in a resurgence at Load King, which has recently resumed the dominant position it once held in the industry, after becoming a wholly-owned subsidiary of Custom Truck One Source in December 2015. Tom Norcross, the President of Load King, has more than 30 years of experience in the industry. Since joining forces with Custom Truck, Norcross has quickly implemented specific customer-focused design changes to several of the company's trailer lines.
This new ownership has contributed to Load King's return to the preferred-choice of trailer owners, and the cutting-edge models it has rolled out to date. "The LK503/605 SS SF is a manifestation of one key objective I indoctrinated at Load King my first day, which was to build the lowest deck heights and highest payload trailers in the industry. I knew this would empower customers to transport loads they never could before, and reduce the downtime and costs of additional permits, and pilot cars they required in the past," said Norcross.
Visit Load King's website at
www.loadkingtrailers.com
for more information on the new LK503/605 SS SF 60-Ton Lowboy.
About Custom Truck One Source
Custom Truck One Source is the first true single-source provider of specialized truck and heavy equipment solutions. With sales, rentals, aftermarket parts and service, equipment customization, remanufacturing, financing solutions, and asset disposal, our team of experts, vast equipment breadth and integrated network of locations across North America offer superior service and unmatched efficiency for our customers. Dig in at
www.customtruck.com
and keep up with us on Facebook and Twitter.
About Load King
Load King has been producing first-class trailers and other heavy equipment since 1956. Cutting-edge innovation and engineering excellence make us the market leader. As a key part of the Custom Truck One Source family of brands, we offer a complete line of custom designs as well as standard model trailers through our world-class dealer network. To learn more, visit
loadkingtrailers.com
and connect with us on Facebook and Twitter.
Contact
Load King
Tom Norcross
816-905-2608
www.loadkingtrailers.com
marketing@loadkingtrailers.com

Contact