Eventdex Selects Event Checkin Ltd as Exclusive Registration, Ticketing and Mobile Event App Technology Provider in Western Canada
Agreement highlights importance of conferences, tradeshows and event technology for associations worldwide.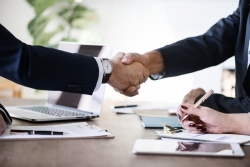 Morganville, NJ, September 26, 2018 --(
PR.com
)-- Eventdex, a market leader in conferences, tradeshows and events technology today announced that Event Checkin has been selected as their exclusive event registration, ticketing and mobile event app technology partner in BC, Canada. The strategic partnership highlights the important role event technology plays in increasing the impact of tradeshows, conferences, meetings and most of all, attendee engagement.
Eventdex's technology will help Event Checkin leaders manage events better, communicate more effectively with their clients, boost event attendance, increase engagement with attendees, and amplify the impact of their overall events program, ensuring Event Checkin's continued success and future growth.
"We are passionate about emerging event technologies and realized the importance of partnering with such a reputable and proven company such as Eventdex," says President and CEO of Event Checkin, Jesse Sidhu. "With so many choices of technology partners, and after an extensive due diligence process, we are more than excited to partner with Eventdex! It was also important for us to align with an organization with a proven track record. When organizations such as the World Health Organization, Canadian Music Week, Hongkong Trade Development Council, University of Hartford and Canadian Special Events Expo, put their trust into your technology platform, we knew immediately this was the platform for us."
The biggest challenge in the events industry today is effectively connecting attendees with others having similar goals and interests - before, during and after any event. The Eventdex platform includes a powerful "Business Matchmaking" component. This tool allows you to easily and meaningfully match and connect your attendees, exhibitors and sponsors so they can make the most of an event experience.
"We were looking for a strong partnership in the Western Canadian region and the years of expertise for Jesse and his team in the BC area had us chose them to expand our footprint further in the Canadian market. The Eventdex team would be working closely with Event Checkin and is looking forward to offering world class event planning and analytics to event organizers in and around the Vancouver region," says Aftab Alam, Vice President for Strategic Partnerships, Eventdex.
Through the agreement, Event Checkin gains access to Evendex's complete suite of
event management technology solutions
including online registration, ticketing, attendee management, mobile event apps, exhibitor solutions and more.
About Eventdex
Eventdex is a leading event engagement and analytics technology for tradeshows, exhibitions and conferences, with more than 132,000 users globally. The Eventdex cloud offers software solutions to event planners and marketers for online event registration, lead management, business matchmaking, onsite solutions, and attendee engagement. Eventdex offers a suite of solutions to automate the planning and execution of events.
About Event Checkin
Event Checkin's goal and company philosophy has always been to simplify the event planning process for event organizers. Event Checkin can manage all OR part of your event planning, marketing, fundraising and technology needs so you can concentrate on forging meaningful connections between your attendees, sponsors and guests.
Contacts
Eventdex
Aftab Alam,
Vice President of Partnerships
aftab@eventdex.com
or
Event Checkin
Jesse Sidhu, President
info@eventcheckin.ca
Contact
Eventdex LLC
Durga P. Mikkilineni
732-333-1901
https://www.eventdex.com
281 State Route 79, Suite #208,
Morganville, NJ07751

Contact