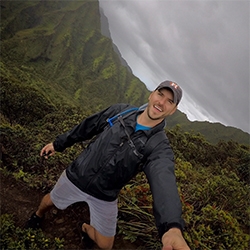 Cincinnati, OH, September 29, 2018 --(
PR.com
)-- Vero, an international travel nursing agency headquartered in Cincinnati, Ohio, has recognized Registered Nurse Jeremy Noel for his exceptional contributions to the nursing industry. Vero elected Mr. Noel as their September 2018 "Vero Hero" for his commitment to quality and excellence in nursing.
"I knew I wanted a career that makes me feel that I am really making a difference. There is no better feeling than knowing that you played a part in saving someone's life. I also wanted a career that had the potential for advancement. I hope to continue my education and move to more advanced positions in nursing," shares Mr. Noel.
Jeremy goes on to say, "Travel nursing is the best decision I have ever made. I have had the opportunity to experience so many amazing things. In just the past 2 years, I have been diving with sharks, climbed an active volcano, been skydiving, paragliding, bobsledding, snowboarding, and traveled across the world! I seem to be knocking things off my bucket list quicker than I ever imagined, and it wouldn't have been possible without becoming a travel nurse. Experiencing the new places and cultures are so rewarding, and really help to make me a more well-rounded nurse. All the good food helps round me out a little too!"
Mr. Noel joined Vero in February 2017 and continues to practice nursing on the island of Guam as a Pediatric Intensive Care Unit nurse at Guam Regional Medical City. "Vero has been so amazing to work with. They are so easy to communicate with and quick to respond with any questions I might have. They are extremely helpful and make the travel process a breeze. My recruiter, Simon, is constantly reaching out to see if I need anything. They seem to go above and beyond for their nurses, and really treat us like family."
"We are proud to have a healthcare professional of Mr. Noel's caliber representing us in Guam," said Vero's Marketing Manager, Stephen Leonard. "Jeremy is a fine example of how our agency assists travel nurses with achieving both their personal and professional goals. He is a welcome member of our travel nursing family."
To learn more about Vero and travel nursing, visit www.VeroRN.com or call 877.292.1609.