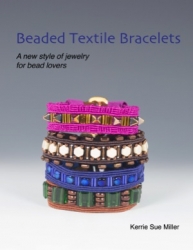 Tiffin, IA, October 03, 2018 --(
PR.com
)-- A new book by Interlace Designs presents 10 projects that use an innovative "textile" method of macramé for making bracelets with beads and cord. The textile method uses the vertical double half hitch primarily to make a sturdy fabric that holds beads of many kinds. With the new book, makers learn how to knot the textile as well as:
· Knot decorative edges
· Incorporate beads using the "knot-in" technique"
· Incorporate beads using the "columns" technique
· Use e-hooks for clasps
· Use slider buckles for clasps
· Knot interesting textures
· Create dimension by "rolling"
The ten projects in Beaded Textile Bracelets have detailed, step-by step instructions with accompanying color photographs. The projects in the book are presented from easiest to most difficult, as each project builds on skills learned in the project before, starting with the basics of learning how to make a textile, moving to the knot-in technique, and ending with variations on the column technique. Texture is achieved in the knotting by using the reverse vertical hitch in different combinations with the regular vertical hitch. All of these techniques are brand new to making macramé jewelry. Makers of all levels can experience and learn something never seen before.
Books are $19.99 and available now at the Interlace Designs'
web site.
Contact
To learn more about Beaded Textile Bracelets or Interlace Designs, or for photographs, please contact
Kerrie Sue Miller
4337 Cosgrove Road SW
Oxford, Iowa 52322
Office (319) 683-4337
Mobile (319) 936-0734
ksmiller@sharontc.net