Ankle Boots so Balanced They Can Improve Your Posture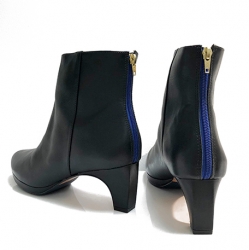 Toronto, Canada, October 05, 2018 --(
PR.com
)-- There are apps, apparel and a multitude of treatments that have claimed to improve your posture but it turns out the right footwear can be posture perfecting. Dr. Liza is a body and posture expert who has designed an ankle boot with the comfort of your favourite pair of sneakers, posture perfecting functional design and classically beautiful silhouette so that you can wear the ankle booties all day, every day and all year round. The proprietary design helps to keep your gait and posture balanced and aligned while expert craftsmanship and intricate detailing provide a stunning look. Orthotic insoles, EVA platforms and rocker soles are just some of the features that will help you look and feel great in the dr. Liza bootie.
In over a decade of clinical practice Dr. Liza noted that "many women had trouble finding the right shoes because they had a wide forefoot, narrow heels, wide ankles, or a foot/ankle injury." To address this concern she designed the dr. Liza bootie with a wide toe box and ankle opening so that they will be a great fit and flattering for most women. The signature royal blue rubber sole is anti-slip so that you can wear the dr. Liza bootie when its wet and slippery and still keep your balance. This is of great concern since as we get older falls tend to be one of the leading causes of disability.
The release of the dr. Liza bootie follows the rave success of the original dr. Liza pump and dr. Liza sneaker pump, which are healthy high heels designed by celebrity favourite Dr. Liza for true all day wear. You may have spotted these gorgeous heels on some of your favourite actresses like Edie Falco, Yara Shahidi, Kate Winslet and Issa Rae.
The
dr. Liza bootie
is currently available for pre-order in black and with sizes ranging from 5-12 [including half sizes] there is a size available for every woman. Limited quantities of the dr. Liza bootie in saffire and caramelo will be available for pre-order later this month.
Pre-order online at
drlizashoes.com
Contact
Dr. Liza Shoes
Dr. Liza Egbogah
416-366-1703
drLizashoes.com

Contact