IAHSP® Hosts the Home Staging Industry Event of the Year with the Scott Brothers as Keynote Speakers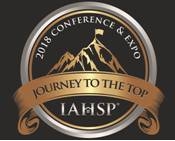 Littleton, CO, October 11, 2018 --(
PR.com
)-- The International Association of Home Staging Professionals® (IAHSP®) is hosting the largest Home Staging Industry Conference in Charlotte, NC Oct 18-20. Staging professionals from around the world are expected to be part of the 400 attendees as well as over 30 industry companies that provide furniture, artwork, décor, and services sponsoring the event.
IAHSP®, a home staging industry association, is hosting the largest industry conference and EXPO event in Charlotte, NC. Expected attendance of 400 will include Staging professionals from around the world, and Keynote Speakers, Jonathan and Drew Scott, HGTV's "The Property Brothers" are the highlight of the event.
The Conference features over 30 industry companies that provide products and services to home staging industry professionals, as well as high-level educational sessions taught by industry experts. Inspirational Keynote will be from Barb Schwarz, the Creator of Home Staging and Founder of IAHSP. The Business Keynote will be from Scott Hansen, a Business Coach and Speaker ranked in the top Business Coaches in the country by Forbes Magazine.
One of the highlights of the event will be the IAHSP® Staging Industry Awards that will recognize top industry companies and individuals in various categories of achievement including top vacant staging, top occupied home staging, top individual and top team. All attendees will also earn their Luxury Home Staging Designation taught by industry experts who specialize in Staging high-end, custom and luxury properties.
"We have lined up the very best speakers and topics for our event and are proud to be hosting this prestigious conference for the home staging industry," said Jennie Norris, IAHSP® Chairwoman. They will also be fundraising for the IAHSP® Foundation, a 501C3 non-profit organization with proceeds going to support Worldwide Staging Service Week projects conducted by IAHSP® Chapters around the world.
About the International Association of Home Staging Professionals:
The International Association of Home Staging Professionals® (IAHSP) was founded 1999 by Barb Schwarz, The Creator of Home Staging®. It was the very first association established to help guide the Home Staging Industry. IAHSP's goal is to help grow the industry around the globe and be a resource for Education, Ethics and Excellence. That vision has come to fruition today as IAHSP members number in the thousands around the world.
IAHSP truly is a global force for the Home Staging Industry. Our association provides members with resources to help them grow and thrive. From our regional IAHSP Chapters to annual Educational Conferences to our online education and website resources available to all members, IAHSP's mission is being fulfilled. The public needs to have a place to go if they have questions about the industry or a business provider, and because all members adhere to a strict Code of Ethics, they are held accountable.
Our Association has an outstanding Board with members who serve the association, their regions and colleagues with pride. All our IAHSP Association Leaders own and operate successful Staging Businesses. It is our firm belief, "You cannot teach what you do not know," and being "IN" the industry we serve and guide is crucial to understanding "WHAT" the members deal with and need as they grow their businesses. We have a vested interest in the success and longevity of the industry.
For questions on how to join IAHSP, call toll free 1-844-IAHSP99 or visit www.IAHSP.com.
Contact
International Association of Home Staging Professional®
Jennie Norris
844-IAHSP99
www.iahsp.com
720-800-5485

Contact