Missing College Students Trigger Search for a Serial Predator; New Book by Todd Hemming Now Available
The year was 2001 and several college students were abducted from eastern Wisconsin and central Minnesota. Most of the crimes have not been solved and most of the bodies were never recovered.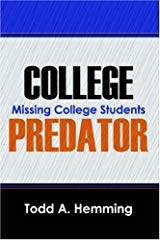 Tempe, AZ, October 15, 2018 --(
PR.com
)-- Missing College Students Trigger Search for a Serial Predator; Catching predators is becoming a serious issue facing society today.
"College Predator: Missing College Students" by Todd Hemming is an inside look into the crisis of college students abductions and the seeming unlikely predator that preys on students.
Many cities throughout the country have been faced with the shocking reality of the abduction of college students, and news headlines prove that this problem is on the rise. High profile cases are only a fraction of how many students go missing yearly, and the pain that these disappearances cause for family and friends combined with the fear that engulfs the surrounding community is unbearable. Awareness regarding the protection of college students from predators is becoming a national concern that must start with addressing the crisis head on and educating students, families and communities.
Deeply effected by personal experience of missing college students, author Todd Hemming wrote "College Predator: Missing College Students" (ISBN 1598004751) a vivid and real life fiction novel. This fast paced story takes you into many facets surrounding the unfortunate events of missing college students including the quest to catch the killer. Hemming's three main characters are Mark, a man with mental illness that gets blessed with a new gift of seeing the crimes take place; William, a rural sheriff's deputy that puts the whole plan of action together; and Matt, the FBI profiler that lends his expertise and training to apprehend the serial killer.
The serial killer in "College Predator" is a prominent member of society, and least likely to be suspected by the community. "I believe that cases which haven't been solved have a different type of predator," states Hemming. "I believe the killer has some law enforcement training, and is possibly involved with the education system or college. He is no drifter or loser, and is very intelligent and meticulous in his planning."
Many times a missing college student was last seen leaving a bar or college party and Hemming makes statements towards the changing atmosphere of college drinking from partying to binge drinking, and the vulnerability of young people today. "College Predator" gives an inside look into the tenacity and the triumphs of the human spirit, how community and law enforcement react when a student is reported missing, and even portrays the scenario of a woman that fakes her disappearance and the detrimental effects on everyone involved. "I hope and pray that no more abductions take place," explains Hemming. "There have been enough killings and abductions, and if my book makes a difference in one life I will be satisfied."
Todd A. Hemming was born in central Minnesota, and holds a Bachelor Degree of Science in General Studies and Liberal Arts from Northern Arizona University, and a Graduate Certificate in Geographic Information Systems from Saint Cloud State University, MN. His interest in missing college students began in Minnesota during 2001-2003, where five college students went missing. "College Predator: Missing College Students" (ISBN 1598004751) is his second book and can be purchased at online bookstores. His third book "Serial Shooters The Rising" (ISBN 9781432727086) can also be purchased at most online retailers. Todd is working on his 4th book and it should be published sometime in 2019, another unsolved mystery thriller.
Contact
Todd Hemming Books
Todd A. hemming
480-208-2202
www.facebook.com/toddhemmingbooks/

Contact