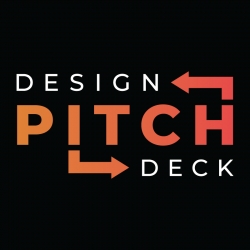 New York, NY, October 17, 2018 --(
PR.com
)-- Increasing numbers of entrepreneurs are seeking investments through Angel Investors and Venture Capitalists for their innovative and groundbreaking business ideas. But the reality is, even the biggest and the most original ideas do not see the light of the day. Lack of proper positioning and pitching has led to numerous ideas not raising funding and are brought to a standstill.
This is the issue that the founders of Design Pitch Deck are aiming to solve.
DesignPitchDeck.com is the first ever platform which helps entrepreneurs acquire investments and funding by developing a professional pitch deck, which follows their company guidelines as well as their brand values. By incorporating the right design aesthetics, right brand positioning, and proper content placement, it has helped many new startups to acquire investments of well over 20 Million USD.
In 2016, DesignPitchDeck.com was the design partner to Magic Bus Ticketing (now known as Buupass) when they secured a funding of USD 1 Million at the Hult Prize, USA. Magic Bus ticketing is an innovative startup based in Kenya, which has made daily commuting for travelers very easy by introducing a new app.
Roshni Rides was amongst the 6 finalists at the Hult Prize competition hosted at the United Nations General Assembly, New York, USA. They presented their innovative idea in the United Nations General Assembly which received a lot of appreciation. Bill Clinton awarded them with a funding of USD 1 Million when they won Hult Prize in 2017 with DesignPitchDeck.com as their design partners.
For IndieBio 2018 (World's leading Life Science Accelerator) DesignPitchDeck.com partnered with four of the 10 finalists, of which one of them walked away with a USD 4 Million funding for their idea.
DesignPitchDeck.com has also partnered with a variety of other startups and MNCs including JSW Sports' Bengaluru Football Club, Haryana Steelers (Pro Kabaddi Team), Run Adam to create their sponsorship presentations.
DesignPitchDeck.com specializes in creating pitch decks and presentations. While creating a pitch deck, the aim is to create a visually engaging presentation, portray the information in an engaging manner. Use of icons, infographics and images are used to convey the information and create a lasting impression in the investors mind. After understanding specific business ideas and the USP of each business, they help develop an aesthetic design presentation which effectively puts the point across to the investors.
Through this approach, they are trying to bridge the gap in the market by providing the right content and design support which gives entrepreneurs an edge when they are looking to secure an investment.
When asked about their idea and how they would like to scale it further, the founding team said, "Startups around the world are raising funds and are serious about making an impact on Investors and Venture Capitalists alike, while presenting their pitch. We want to be a part of their success story by helping them communicate their idea, products or services in an impactful manner. A strong pitch creates a lasting impression leading to successful investments."
If you are looking to raise funding & want to create Investor Presentation
www.designpitchdeck.com
is your one stop solution.