Freestyle Digital Media Releases Award-Winning "Quality Problems" on DVD During Breast Cancer Awareness Month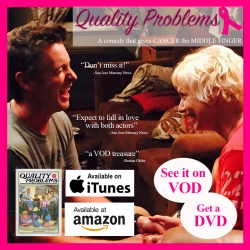 Burbank, CA, October 16, 2018 --(
PR.com
)-- Freestyle Digital Media, the digital film distribution division of Byron Allen's Entertainment Studios, will release the DVD of the cancer-themed, award-winning festival favorite "comedy," "Quality Problems." DVD is available on Amazon, Barnes and Noble, and other online retail outlets. "Quality Problems" is also available to stream on VOD across North American on cable, internet, and satellite platforms through Freestyle Digital Media.
This year 2018 marks the 10 year anniversary of Brooke Purdy's breast Cancer diagnosis. Ten years ago, she heard the words no one ever wants to hear. From then (through today) she has been carried by her family and her Village and got through it...With a Lot of help. So, here we are 10 years later, she is Cancer free and with her wonderful film, "Quality Problems" to show for it. In the time since her diagnosis she has talked to hundreds of women and their families facing a diagnosis and is hoping that this film, which celebrates Hope and Laughter in a time of crisis will reach many, many more. She is hoping that all people who have been touched by Cancer in any way will gain comfort from this film and join her mission to spread Hope.
"Quality Problems" wrapped up a successful festival run with an international Best Feature Film award at the ROFL Comedy Festival in Madrid Spain and three nominations at NewFilmmakers Los Angeles - Awards Best Of Gala on May 12, 2018: Best Comedy Performance (Brooke Purdy), Best Feature, and Best Screenplay. The film world premiered at Cinequest (2017) and was an official selection at top festivals across the US including the Austin Film Festival, Florida Film Festival and Geena Davis' Bentonville Film Festival. Awards include Directors Choice Indie Spirit at the Sedona International Film Festival, Best Feature and Best Actress at Hell's Half Mile Film Festival, Best Feature at the Women Texas Film Festival in Dallas, Best Ensemble Cast at Jefferson State Flixx Fest.
"Quality Problems" is about a 40 something couple much like other couples: They have two kids, two jobs, and one boob with cancer. Toss in planning an 8-year old's perfect birthday party and the only thing you can do is laugh.
Written by Brooke Purdy and co-directed by Brooke Purdy and Doug Purdy, "Quality Problems" was produced by Jen Prince, and co-produced by Jhennifer Webberley and Colette Freedman. It is a Metamorfic Production. "Quality Problems" features an award-winning ensemble cast including: Chris Mulkey ('Clyde'), Mo Gaffney ('Dr. Daly'), Jenica Bergere ('Paula'), Michael Patrick McGill ('Alan'), Ryan Bollman as ('Lance'), Brooke Purdy ('Bailey'), Doug Purdy ('Drew'), Max Purdy as ('Max'), and Scout Purdy ('Scout').
"Quality Problems" official website:
www.qualityproblemsfilm.com
"Quality Problems" official trailer:
https://vimeo.com/216777760
Contact
Metamorfic Productions
Jhennifer Webberley
818-845-5148
www.metamorfic.com
jenprince@gmail.com

Contact