Sam's Safety Equipment Announces Launch of Performance Focused Workwear for Women Designed by Women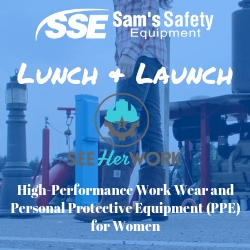 Houston, TX, October 18, 2018 --(
PR.com
)-- Sam's Safety Equipment announces the retail launch of SeeHerWork. SeeHerWork designs and manufactures workwear, safety equipment, and other job-specific products to help women stay safe and aid them in performing at their highest level. Most options available for women today are smaller male patterns colored pink. Women need properly fitted clothing and equipment to stay safe and performing at their best.
Sam's is thrilled to be a partner for this performance-focused brand that not only protects women from hazards but also inspires greater confidence, allowing them to feel strong amongst their peers while performing day-to-day job duties.
Sam's Safety Equipment prides itself on being the industry leader in bringing innovative products that benefit the local workforce to the market. As Houston continues to grow as a center of innovation for technology and design, Sam's supports brands and makers who are bringing new and revolutionary safety products to shelves. As a gap in the market for female-targeted products has always been apparent, Sam's is thrilled to be able to begin to bridge the gap in the marketplace and promote inclusivity to all genders in the industry.
SeeHerWork is sure to revolutionize the industrial safety market, and not just for women.
The first Lunch and Launch event for SeeHerWork which will include a product presentation by the founder Jane Henry at the Sam's Safety Equipment showroom from 11:30-12:30 on Friday, October 19th at 12221 Sowden Road, Houston, TX 77080.
Register for the event at https://www.eventbrite.com/e/lunch-launch-see-her-work-tickets-51256570783.
For more information about the line, contact Kevin Doffing, President, Sam's Safety Equipment at kevin@sams-safety.com or by phone at (713) 449-0655.
Contact
Sam's Safety Equipment
Kevin Doffing
713-462-5333
https://www.sams-safety.com

Contact