OnPoint Manufacturing Announces Partnership with Vesta Studio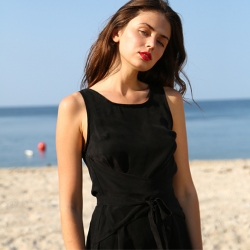 Nashville, TN, October 23, 2018 --(
PR.com
)-- OnPoint Manufacturing, Inc., an innovative leader in on-demand apparel manufacturing, today announced an exciting new partnership with Vesta Studio to produce their high-end women's wear.
Vesta Studio works closely with OnPoint Manufacturing to provide high-quality, sustainable women's wear. This partnership is the perfect illustration of what the future holds for personalized apparel manufacturing and exemplifies the importance of sustainability in the fashion industry.
Vesta is a sustainable women's wear line made-to-order in the USA from eco-friendly, 100% vegan fabrics. Vesta uses the cleanest, most innovative fabrics to craft beautiful, functional clothing, offering an alternative to fashion made with harsh chemicals, sweatshop labor, and animal products. Its mission is to create high-quality, affordable, sustainable clothing so women can "buy less, but better."
"We are so pleased Vesta Studios trusted us to carry out their work. Although our companies are physically miles apart our environmental philosophies are very much in sync. Kendall's designs are both elegant and functional, and their innovative use of eco friendly and sustainable fabrics is refreshing. We are honored to play a very small role in their journey forward," says J. Kirby Best, Chairman, OnPoint Manufacturing.
"I am thrilled to have discovered OnPoint's innovative made-to-order model. As a small brand, I would rather put my money into high-quality fabrics and the development of future collections than spend money on inventory every season that may or may not sell. OnPoint's model reduces inventory waste, ultimately saving us money and allowing us to provide exciting and unique, customizable made-to-order pieces for our customers. I really believe this type of model is the future of sustainable fashion and I am excited to be a part of it," says Kendall Wilson, Owner, Vesta Studio.
About OnPoint Manufacturing, Inc.
OnPoint Manufacturing specializes in Purchase Activated On-Demand Mass Customization of apparel. OnPoint has developed technically advanced manufacturing and distribution solutions for the apparel industry. Our factory model automates and integrates almost every aspect of the manufacturing process from order entry to delivery. The integrated components that are driven by complex software allow OnPoint to manufacture millions of unique SKU's on-demand reducing inventory costs and streamlining the whole supply chain. Founded by Chairman J. Kirby Best, OnPoint maintains a manufacturing facility in Florence, Alabama, with headquarters in Nashville, Tennessee.
Media requests may be directed to OnPoint Manufacturing, Inc. Director of Marketing Christopher Taylor at 615-900-9022 or via email at Chris@onpointmanufacturing.com.
About Vesta Studio
Vesta is a sustainable womenswear line made-to-order in the USA from innovative eco-friendly, vegan fabrics. www.shopvesta.com
Contacts
J. Kirby Best, 615.330.2407
Chairman, OnPoint Manufacturing, Inc.
Kirby@onpointmanufacturing.com
Christopher Taylor, 615.900.9022
Director of Marketing, OnPoint Manufacturing, Inc.
Chris@onpointmanufacturing.com
Kendall Wilson
Owner + Designer, Vesta Studio
hello@shopvesta.com
www.shopvesta.com
Contact
OnPoint Manufacturing, Inc.
Christopher Taylor
615-900-9022
www.onpointmanufacturing.com
J. Kirby Best, (615) 330-2407
Chairman

Contact