Mailbird is Now Accepting Bitcoin Payments on the Website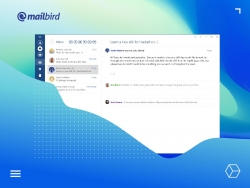 Palo Alto, CA, October 28, 2018 --(
PR.com
)-- Mailbird has decided to join the ranks of many other progressive companies, and start accepting Bitcoin payments on the website. Online payment options have changed the way companies conduct business transactions with their clients and customers so much, that almost every online order is fast and straightforward these days.
Companies like Mailbird are starting to focus on Bitcoin transactions and payments. Accepting Bitcoins is similar to accepting foreign currencies, but the primary goal is to give clients more payment options, and of course a high-quality business email client.
For free or low-cost business email providers, Mailbird is a great low-cost option for desktop email clients as this is one of the main reasons why existing businesses choose Mailbird over the competition.
What is Bitcoin exactly? Bitcoin is a cryptocurrency, a form of virtual cash used to purchase items or services from companies that accept bitcoin payments on the website.
The main reason Bitcoin is different from other fiat currencies like dollars, euros or pounds, is decentralisation and no bank interference in the flow. Many people wonder how Bitcoin became a mega sensation in the world, and it's because of the big boom on cryptocurrency exchanges that happened at the end of 2017 when the price reached USD 20,000 for 1 Bitcoin. In only nine short years, crypto enthusiasts and brokers saw the potential of the coin and the blockchain technology behind it, and managed to turn it into a high-profit investment.
That's how people started engaging in the crypto world. This year, there is more legal regulation and government support from countries like China, Sweden and prominent companies accepting crypto as part of their payment options. Mailbird is now one of those companies.
Bitcoin is the payment option of the future due to the simple fact that there are no banks and thus no fees. Each transaction is publicly verified by the peer-to-peer community network, which means they are generally safe for both sides. If consumers don't want to go through a third-party bank, credit card company or PayPal, Bitcoin is the best payment option.
With the introduction of Bitcoin payments, millions of people around the world have chosen Mailbird as the best email client for Windows. Business owners who need to manage multiple email accounts will always use email clients as an essential part of the company's email management policy.
Mailbird has integrated almost all popular productivity apps like Asana, Slack, Google Apps, Dropbox, Degoo, Moo.do, Todoist and many more, so employees won't have to switch between apps all the time. Mailbird's native contact manager is wonderful in that it syncs all the important contact details of people communicated with via email, from all the different accounts, all in one place.
Let's talk productivity features. There is a unique attachment search in Mailbird that allows email users to browse through received files without opening emails, no longer wasting precious time. Contact search via profile pictures, LinkedIn or avatars are all accessible in one place, without ever leaving Mailbird. The quick action bar is also handy when performing actions without opening an email.
The inline reply will keep all threads super clean and easy to follow for everyone, which is the most essential part of every B2B communication. Mailbird's unified inbox has colour indicators that indicate which accounts emails are coming to and from.
However, the best part about Mailbird is the customisation. Options to choose a theme (even a Star Wars theme), message sounds and backgrounds. Mailbird also comes with multi-language support for 17 languages and more to come.
Choosing the right email client is a crucial decision, like selecting an email provider, or a professional email address for businesses. They add value to a company's brand, save businesses precious time and boost team productivity. "The option to now use Bitcoin or Bitcoin Cash to get the best email client for Windows, has never been better," says Mailbird CEO, Andrea Loubier.
Mailbird is a company that takes pride in high-tech solutions for email management. When Bitcoin became a tech and social consumer revolution, it became very forward thinking for the company to make the decision to provide this option to the world. Mailbird seeks to continuously give customers viable payment options, so that more people and businesses around the world have access to Mailbird.
For a free or low-cost business email provider, Mailbird is a great low-cost option for desktop email clients. This is one of the many reasons why businesses choose Mailbird over the competition. Get Mailbird Pro Lifetime today with Bitcoin or Bitcoin Cash.
Contact
Mailbird
Andrea Loubier
650-644-1361
www.getmailbird.com

Contact