AmpleHarvest.org Fights Food Waste and Hunger with Centerpieces for Food Pantries Initiative
AmpleHarvest.org shares tips for creating centerpieces made of fresh produce that can be donated to food pantries.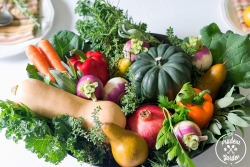 Newfoundland, NJ, October 25, 2018 --(
PR.com
)-- AmpleHarvest.org, the nationwide non-profit organization that enables millions of home gardeners to donate excess garden produce to a nearby food pantry, encourages the use of whole fruit and vegetables for holiday centerpieces. Skip the flowers this year, because fruits and vegetables are colorful, textured, appealing, and edible. Edible centerpieces can subsequently be donated to a nearby food pantry to help hungry families. Food pantries that accept fresh produce can be located by using AmpleHarvest.org's free search tool at: AmpleHarvest.org/find-pantry.
The AmpleHarvest.org "Centerpieces for Food Pantries" initiative, now in its seventh year, helps people share the food they're thankful for with those who are not quite as lucky. More than 8,000 food pantries spread across all fifty states have registered with AmpleHarvest.org with more joining daily, eager to accept fresh produce.
"Pretty as they are, flowers quickly wilt and need to be thrown away within days. Instead, a bowl or basket of whole fruit and/or vegetables can be used as a beautiful centerpiece for that special dinner – and can then be donated to a local food pantry the following day," said Gary Oppenheimer, founder of AmpleHarvest.org.
Unique dinner table centerpieces can be harvested from your garden or purchased from a farmers market or store. The fresh food adds color, character and fragrance to the table. Budget-friendly DIY ideas are available at: AmpleHarvest.org/one-simple-change/
"There's no right or wrong way to make an edible centerpiece. Use what you have or what's in season. I chose fruits and veggies that are hearty and can hold up well out of the fridge or water. Fall and winter vegetables are perfect for an edible centerpiece because they are tough and will not wilt easily," states Debbie Wolfe of The Prudent Garden. "This is a wonderful way to give back to your community as well as spread a little holiday cheer to those who could use a little help."
After the festivities, the entire edible arrangement can be donated to a local food pantry, turning a table centerpiece into nutritious food for the less fortunate in the community. This generous gift is good for neighbors in need and good for the environment.
It's important to remember that food pantries can only accept whole food. If the fruit or vegetables are cut, carved or pierced with tooth picks, they will not be accepted by most food pantries.
Giving thanks for what we have should be accompanied by using what we have wisely as well as concern for those who have less than us. Let the centerpiece grace your table one day and feed another family the next. Visit AmpleHarvest.org/holiday to learn more.
About AmpleHarvest.org
AmpleHarvest.org, Inc. is a not-for-profit 501c3 organization which works to diminish food waste and hunger in America by educating, encouraging and empowering growers to easily find a local food bank eager to receive the excess garden bounty. For more information, visit http://www.AmpleHarvest.org/presskit or call AMPLE-6-9880 (267-536-9880).
Connect with AmpleHarvest.org:
Facebook: https://www.facebook.com/AmpleHarvest.org
Twitter: https://twitter.com/AmpleHarvest
Instagram: https://www.instagram.com/ampleharvest/
Contact
AmpleHarvest.org
Gary Oppenheimer
267-536-9880
www.AmpleHarvest.org/presskit
Follow AmpleHarvest.org at Twitter.com/AmpleHarvest, Facebook.com/AmpleHarvest.org

Contact