4-Time Jaguar Owner Takes Delivery from Crown Jaguar of First I-Pace in US
Loyal Crown Jaguar customers Mark and Holly Pascarella of Lakewood Ranch, Fla. have purchased the first Jaguar I-Pace in the US, their fourth Jaguar and seventh purchase overall from the luxury dealer. The all-new Jaguar 2019 I-Pace is not yet available for purchase anywhere in the US.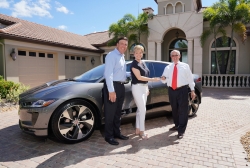 St. Petersburg, FL, October 26, 2018 --(
PR.com
)-- Crown Jaguar has officially sold Jaguar North America's first I-Pace to Mark and Holly Pascarella of Lakewood Ranch, Florida. Although it's not yet available for purchase, Crown Jaguar will be among the select group of dealerships in the nation to carry the all-new 2019 I-Pace as part of the manufacturer's prestigious group of SV (special vehicle) dealers.
In a recent release announcing Jaguar North America's First Jaguar I-Pace Customer, Mr. Pascarella is asked a series of questions on his history with Jaguar vehicles, expectations of the I-Pace, experience with EV technology, and his experience with the Jaguar SV retailer that sold him the brand new 2019 I-Pace: Crown Jaguar.
"Crown Jaguar, in St. Petersburg has been phenomenal for us. The service I get from them is fantastic, and that made a big difference, too. They're 35 miles from my house but I've bought four Jaguar vehicles from them including this I-PACE just because of the service level I get from those guys. I trust them and feel good about what they do. I know they're going to take care of me," said Pascarella, who has purchased a total of seven luxury vehicles from Crown.
The 2019 I-Pace breaks from tradition by being the first completely electric-driven vehicle available from the British automotive manufacturer. Its development has been delayed to fully implement key EV aspects, but it is now finally ready for sale to the general public and will be available in the near future at Crown Jaguar.
"We are deeply honored to we have customers like Mr. and Mrs. Pascarella and their daughters, whom we've gotten to know over the years. The fact that they continue to trust us with their luxury buying experience is not, and will never be taken for granted. It is also very humbling to have been given the opportunity to sell Jaguar's very first I-Pace in the US," said Michal Niezbecki, general manager of Crown Jaguar.
According to Jaguar, the all-new 2019 I-Pace establishes a new mid-size premium battery electric vehicle (BEV) segment.
About Crown Automotive Group
With a history spanning almost 50 years, Crown Automotive Group has grown into one of the largest privately owned dealership groups in the nation with operations in Florida, Ohio, and Tennessee.
Every Crown Automotive dealership features an extensive selection of new, certified, and meticulously inspected pre-owned vehicles with financing options for every budget. Customers can also expect superior service from a team of highly trained technicians at Crown's signature award-winning service facilities.
Driven by four core values: Customer Focus, Teamwork, Integrity and Growth, the group is committed to providing each customer with "The Better Way To Buy."
About Jaguar Land Rover
Jaguar Land Rover is the UK's largest automotive manufacturer, built around two iconic British car brands: Land Rover, the world's leading manufacturer of premium all-wheel-drive vehicles; and Jaguar, one of the world's premier luxury sports sedan and sports car models.
The company employs almost 38,000 people globally, with 338 in the U.S. and supports around 275,000 more through its dealerships, suppliers and local businesses.
Manufacturing is centered in the UK, with additional plants in China, Brazil, India and Slovakia.
Contact
Crown Automotive Group
Francis Mariela
239-273-6976
crowncars.com

Contact