Audio4fun's Fangtastic Screamfest 2018 Features Voice Changer Software Diamond Treat
Audio4fun organizes The Fang-tastic Screamfest for Halloween 2018 to invite all users to join in the fun with Voice Changer Software Diamond and other software treats.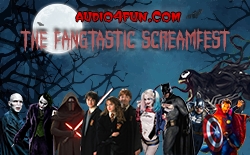 California City, CA, October 30, 2018 --(
PR.com
)-- Halloween 2018 is coming near. This year, Audio4fun is hosting The Fangtastic Screamfest, welcoming all kinds of ghosts, goblins, witches, even super heroes and powerful villains in the cyberspace to join in and also get themselves a treat. As this is a store-wide fest, the treats range extensively from the best-selling
Voice Changer Software Diamond
to all kinds of audio and video products. In addition to the main treats, Audio4fun has also prepared free gifts of audio add-ons and Halloween wisdom for users. More in-depth information about The Screamfest can be found at
https://www.audio4fun.com/halloween.htm
Attending The Fangtastic Screamfest, users will see that there are three areas to explore: "Treat or Better Treat," "True Ex-fear-ience" and "Wisdom Graveyard." For those who have the intention of lighting up some fun and triggering the Halloween spirit in the online village, the main section "Treat or Better Treat" is just the place they need. Users can choose the best spells and tools from Audio4fun's store-wide selection of treats and especially, Voice Changer Software Diamond, which is the one that will provide the strongest spell for this spooky night.
"In the age of modern technology, Halloween is not just about dressing up in costumes and going house to house 'trick or treating' anymore. We can actually dress up our original voice in newly morphed voices with Voice Changer Software Diamond. And then, it's time to go around the Internet, knocking on friends' social accounts and have some Halloween fun yet chilling calls," said Peter Nguyen, COO of Audio4fun.
"However, even the strongest spell also needs some backup to have full effects for the best spooktacular night ever. That's why Audio4fun prepared the other two areas 'True Ex-fear-ience' and 'Wisdom Graveyard' to bring new ideas for users," Peter added. In the "True Ex-fear-ience" area, users will see the two new add-ons exclusively updated for Halloween: sample voices of Heroes, and of Villains. With these two packs of voice samples, users will be able to have fun playing around with Voice Comparator and Parody Mixer features of Voice Changer Software Diamond.
On the other hand, "Wisdom Graveyard" provides the interesting facts and details of many popular Halloween terms such as Jack O' Lanterns, traditional colors, Halloween's birthplace and many other fascinating topics. In addition, there is also a chart with images of the Top 5 costumes 2018, to help users keep up with the trends and also to be well prepared for the haunting night, whether on the Internet or going around the neighborhood. To fully grasp The Fangtastic Screamfest and all of its areas, all readers can visit https://www.audio4fun.com/halloween.htm
Contact
AVSoft Corp.
Pierre Tran
+84908554487
http://www.audio4fun.com
170D/2A Phan Dang Luu Street, Ward 3, Phu Nhuan District, Ho Chi Minh City, Vietnam

Contact