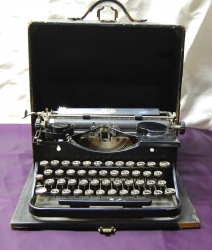 Savannah, GA, March 18, 2008 --(
PR.com
)-- Hemingway's manual Royal typewriter, circa 1940, still in its well-worn leather carrying case, will be for sale and on display in the Circa Savannah showroom at 42 E. Bay Street (next door to the historic Cotton Exchange).
The typewriter was originally given as a present by literary giant Ernest Hemingway to George T. Northen – the grandson of former Georgia Governor William J. Northen, who served two terms, from 1890-1894. Hemingway and George Northen were friends and fishing buddies, often spending time together in Cuba.
The typewriter was at one time kept by Hemingway in his home in Cuba that he bought in 1940 and named Finca Vigia (Lookout Farm). He and his wife, Martha, lived in the house during World War II and today, along with Hemingway's fishing boat, is a national landmark in Cuba.
Circa Savannah provides a lifetime guarantee with every Certificate of Authenticity and will provide the new owner with all related provenance for this historic item.
Circa Savannah specializes in historic autographs; period antiques and eclectic memorabilia including a collection of Johnny Mercer signed contracts and authentic items from such notables as Jefferson Davis, HRH Princess Diana, Harry Houdini, Andy Warhol and a variety of others.
Circa Savannah is the premier historic gallery in the Southeast and an outstanding leader in presenting historical documents and autographs as art. Circa Savannah offers its collection to the public Monday through Saturday from 10am and Sunday beginning at noon.
To learn more about Circa Savannah, visit the historic gallery online at www.circasavannah.com . To inquire about Hemingway's Typewriter or other items, you may call them directly at (912) 233-3667. The e-mail address is info@circasavannah.com
###