Janet Gardner Brings Her "Scream It Louder Tour" to an End with Promise of New Music and More
On November 3, 2018 Rock singer Janet Gardner closed out her 2018 tour with a packed house of screaming fans, in Spring City, PA. Janet led the house to fans singing along, as she ventured into the crowd to join them. The evening consisted of the Hits and teased the audience with 3 brand new tracks that are set to appear on her up and coming 2nd solo album set to be released in 2019.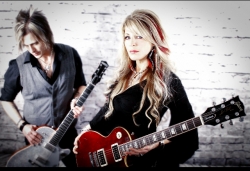 New York, NY, November 06, 2018 --(
PR.com
)-- Rock singer Janet Gardner closed out her 2018 tour with a packed house of screaming fans, in Spring City, PA. She showcased a few new tunes from what she plans to put on her second solo album. This has been a tumultuous year for the singer. Janet started her tour with being rushed to the hospital and having to undergo emergency brain surgery. The rock singer bounced back with handling 2 tours between her band and Vixen. This rock queen shows no signs of slowing down, with big plans for 2019.
Janet Gardner is known for being the lead vocalist of the legendary female rock band Vixen, Janet Gardner's powerful vocals propelled Vixen to the top of the Billboard charts with crossover hits "Edge of a Broken Heart" and "Cryin'" and AOR rockers "How Much Love" and "Love is a Killer." Vixen toured extensively, grinding out 200 shows per year, opening for the likes of Deep Purple, Ozzy Osbourne, The Scorpions, Kiss, and Bon Jovi.
In an era primarily dominated by male rock musicians, Vixen's all female line up didn't come without its struggles. But their undeniable musicianship matched with Gardner's unique and powerful vocal style propelled the band quickly to Gold Album status and earned the band critically acclaimed success that is still celebrated to this day on the likes of Sirius XM, MTV/VH-1 Classic, and nationally syndicated specialty radio shows. Vixen, along with their predecessors, helped pave the way for the current wave and success of female fronted acts such as Halestorm, In This Moment, The Pretty Reckless, and many others.
Teaming up with guitarist/songwriter/producer Justin James (who has worked with members of Staind, Collective Soul, Tyketto), Gardner ventured into the solo realm to unleash a new side of her musical creativity. Together, Janet and Justin have penned a collection of emotionally charged songs with gritty grooves, infectious hooks, and inspired lyrics that merge hard rock influences from the last four decades.
The result is a perfect blend of modern hard rock with a touch of old school flare that will turn the heads of generations of rock fans. A sample teaser was put up on YouTube and literally exploded overnight. The power duo was quickly snatched up by Pavement Entertainment with a full length CD that was released in the fall of 2017.
Janet Gardner has once again proven herself as a leader in the female fronted hard rock world.
www.janetgardnermusic.com
Contact
Sleepless Mind Entertainment
Ryan Galway
888-509-1136
www.sleeplessmindentertainment.com

Contact