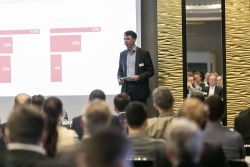 Berlin, Germany, November 07, 2018 --(
PR.com
)-- Every November European costing experts gather to attend the FACTON User Conference. Scheduled discussions revolve around the impact of current market developments on product cost management, operational best practices and further development of the FACTON EPC Suite, the leading software for standardizing product costing. "A constantly changing market environment and new technologies require our customers to take a new view of product costing. Right now, digitization plays a leading role because it is no longer limited to manufacturing processes and products. The meaningful use of available data is also essential. Modern algorithms are clearly changing the way the industry collects and processes information," says Alexander M. Swoboda, CEO at FACTON GmbH. "This is why the theme of our event this year is 'Predictive Costing.' Our User Conference offers the FACTON Community a platform to share their thoughts on these future-oriented topics among like-minded experts and discuss ideas they might not have time to contemplate during normal, everyday business."
Agenda Items:
- Predictive Costing | Alexander M. Swoboda | CEO - FACTON
- FACTON's Roadmap for Implementing Your Cost Strategy | FACTON Product Management
- Smart Factory as a Service | Marco Henry Neumueller | Associated Partner | Head of Business Development R&D Transformation - MHP Management and IT Consulting
- Initiative Costing Electronics | Frank Ebert | Principal Consultant - FACTON
- More Value, Better Savings – Cost Management with FACTON EPC in the World of Banknote Processing Systems | Christian Marquardt | Senior Project Manager - G+D Currency Technology
- Digital Computers – Yesterday, Today, Tomorrow | Professor Dr.-Ing. habil. Horst Zuse
- Get-together
The FACTON User Conference is open to anyone who has deployed one of the FACTON EPC Suite solutions in their enterprise. But costing experts interested in using the software can also register to attend the event. Presentations will be held in German. Simultaneous interpreting will be available for international guests.
For detailed information on the agenda and how to register for the event, please visit: awk.facton.com.
Note to editors interested in attending the event: Please send an email to iris.wedepohl@facton.com if you are interested in attending the event.