Gineean M. Holyoke Honored on the Reuters Billboard in Times Square in New York City by P.O.W.E.R. (Professional Organization of Women of Excellence Recognized)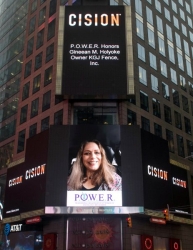 Norfolk, MA, January 05, 2019 --(
PR.com
)-- Gineean M. Holyoke of Norfolk, Massachusetts has been honored on the famous Reuters Billboard in Times Square in New York City by P.O.W.E.R. (Professional Organization of Women of Excellence Recognized) for her outstanding achievements and high level of success in the field of fencing contracting.
About Gineean M. Holyoke
Gineean Holyoke has over 30 years experience in the fencing industry. She is the owner of KGJ Fence, Inc., which provides fencing building, planning, installation, follow-up and repair services for residential, commercial, industrial and ranch fencing needs. The company has built privacy, security, slat, rail, chain link, ornamental and accent fences for almost 30 years in Massachusetts and Rhode Island.
The company is certified through WBE as a Women's Business Enterprise. As a Contractor, Gineean is responsible for providing job estimates, hiring installers, providing general office support and administration as needed and ensuring the best possible customer service. She is a member of the R.C.N.C.
In her spare time, Gineean enjoys fishing, travel and public speaking.
For further information, contact
www.kgjfence.com
and www.facebook.com/kgjfence/.
About P.O.W.E.R. (Professional Organization of Women of Excellence Recognized)
P.O.W.E.R is a website as well as a digital and print magazine featuring professional and famous women. Our mission is to provide a powerful network of empowering women who will mentor and inspire each other to be the best they can be. Through our valuable services, our members can collaborate with like-minded professionals, gain recognition and obtain knowledge from those who have already achieved success.
Contact
P.O.W.E.R. (Professional Organization of Women of Excellence Recognized)
S. K. Koop
516-365-3222
www.powerwoe.com
Ellen Gold

Contact