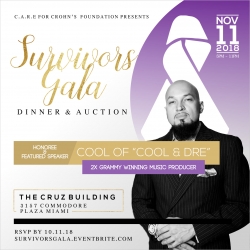 Miami, FL, November 09, 2018 --(
PR.com
)-- Get ready for an evening of glamour and entertainment with elite members of the community, all in support of and bringing awareness to Crohn's Disease and Ulcerative Colitis. The infamous Cruz Building (
cruzbuildings.com
), in Coconut Grove, will host the Survivors Gala (
survivorsgala.us
), a fundraising event for the C.A.R.E. for Crohn's Foundation (
careforcrohnsfoundation.org
).
On Sunday, November 11, C.A.R.E. will hold their first annual Survivors Gala located at 3157 Commodore Plaza, Miami, FL 33133 from 5:00 PM to 11:00 PM. In the midst of the Miami gala season, walk the purple carpet at this black tie affair and support this worthy cause in luxury and style. Be inspired by guest speaker, two-time Grammy Award winning music producer Cool of "Cool and Dre," and by stories of students living with Crohn's or ulcerative colitis who will be awarded scholarships after winning C.A.R.E.'s essay competition. Show community support for this important healthcare organization and the many people it helps. WEDR's 99 Jamz own Supa Cindy is one of many honorees (
survivorsgala.us/copy-of-honorees
); Epidemic Records/We The Best Music/Epic Records Kent Jones will be preforming along with others.
The night will begin with a cocktail reception on the glamorous rooftop terrace featuring hors d'oeuvres, a complimentary cigar bar and a display of items ranging from signed athletic apparel to high end vacation packages and custom art pieces. Guests will enjoy a full-course dinner provided by Celebrity Chef Felix Alexander (
alexanderevent.com
), who has prepared outstanding meals for well-known area favorites Chris Bosh and Dwayne Wade, President Bill Clinton and many more. Dinner will be complimented by an open bar and delectable desserts.
About CFC
C.A.R.E. for Crohn's Foundation is a 501c3 nonprofit organization based in Miami, Florida. Our mission is to provide resources and supportive services to individuals living with Crohn's Disease and/or Ulcerative Colitis. We provide the educational tools necessary to improve their quality of life by understanding the importance of nutrition and a healthy lifestyle.
About Sybille Guichard
Sybille Guichard, founder of C.A.R.E. for Crohn's Foundation, was diagnosed by the age 14 and has been fighting the fight along with helping others in the South Florida community to bring a greater awareness to Crohn's Disease and/or Ulcerative Colitis. Her past events include: Grocery Store Tours with partnering grocer Nutrition S'mart, The Purple Shopping Bag: giving foster children the ultimate shopping experience, Scholarship Programs and an annual Art Mixer showcasing themed paintings by local creatives; bringing the gap between art and awareness.
Press/Media Inquiries: The Neala Group ng@thenealagroup.com | 781.727.4498
Related Links
survivorsgala.us
survivorsgala.eventbrite.com
careforcrohnsfoundation.org