Color Marketing Group Announces 2020+ Latin American Key Color – Ver-de-verdad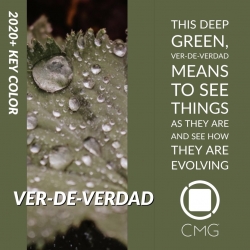 Philadelphia, PA, November 10, 2018 --(
PR.com
)-- Perceiving everything around us with a new perspective, and determining our action, is a key trend in color and design, and life. It forms the foundation from which Latin America's 2020+ Key Color, Ver-de-verdad, was created.
"Ver-de-verdad" translates to seeing things how they are and how they are evolving. An expressive green color, balanced with yellow and toned with black, Ver-de-verdad is a hue that represents an increased awareness and knowledge.
Once we've recognized our issues and challenges, we shall approach concepts from a proactive perspective; we can no longer stand idly by and merely observe what happens. We must be aware, we must engage, we must protect, and we must act in the interest of everyone, and everything on the planet. Ver-de-verdad is the catalyst hue for new building materials and construction methods. It reminds us that we cannot treat refuse in a cavalier manner, we must respect our environment, and that every act matters. It immediately connects to who we are, where we are, and where we need to be.
Ver-de-verdad is a green reminiscent of nature. It conjures healing, of journeys into the forest primeval, and reminds us that we are part of a whole eco-system. Though we can't control nature, we can control how we interact with it. We must take nature into account when designing our products and environments, not only to protect future nature but to be best prepared for natural disasters when they occur. Investigating and initiating new design methods that respect nature is key, and those designs must also withstand the force of nature. The green of Ver-de-verdad becomes a symbol for the beauty, and the potentially destructive character of nature, as well as a beacon of hope and understanding.
Ver-de-verdad is thoughtful and balanced. Toned with black, it displays its deep and contemplative side, and its influential yellow creates an ambitious representation of nature.
We are aware, informed, and ready to protect with evolutionary methods for our environments. Ver-de-verdad represents the idea, and the goal, in one hopeful hue.
About Color Marketing Group®
Color Marketing Group®, founded in 1962, is a not-for-profit international association of color design professionals who forecast color directions and is a forum for the exchange of all aspects color. Members represent a broad spectrum of designers, marketers, color scientists, consultants, educators, and artists. Color forecasting events are held throughout the world and the results from these events become part of the global World Color Forecast™ revealed at the annual International Summit.
Contact
The Color Marketing Group
Sandy Sampson - VP PR & Communications
703.329.8500
http://www.colormarketing.org/

Contact
Multimedia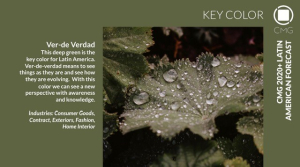 Color Marketing Group Announces 2020+ Latin American Key Color – Ver-de-verdad