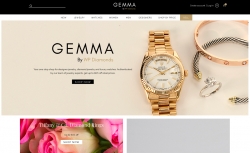 New York, NY, November 13, 2018 --(
PR.com
)-- WP Diamonds, a leading purchaser of diamonds, fine jewelry and luxury watches, has launched Gemma by WP Diamonds, the company's first ecommerce website enabling customers to directly purchase from their extensive inventory of pre-owned diamonds, designer jewelry and luxury watches. Realizing a void in the market for luxury goods at accessible pricing, Gemma challenges the existing retail model, giving consumers access to deals previously available exclusively to the industry and trade.
Gemma provides thousands of unique pieces at prices up to 80% off retail, without compromising quality or assortment. New and pre-owned pieces range from sterling silver to diamonds and include brands such as Rolex, Cartier, Tiffany & Co., David Yurman, and more.
Gemma was created to help customers buy beautiful pieces at prices they can feel good about. Offering shoppers an unparalleled experience, Gemma elevates its assortment and unmatched pricing with built-in product authentication, free U.S. shipping and a vast team of experts available to customers.
Andrew Brown, President of WP Diamonds, says, "Having helped to grow and legitimize the market for secondhand diamonds, designer jewelry and watches through WP Diamonds over the past seven years, we are excited to continue our direct to consumer drive with the launch of Gemma by WP Diamonds. Our new e-commerce site offers authenticated, luxury goods to consumers at significant discounts to retail prices set by the brands, while also providing a Concierge service for custom engagement rings and those hard to find unique pieces. We are excited to introduce this new offering and we look forward to providing customers with this differentiated experience."
Spearheading an industry-wide change, Gemma by WP Diamonds is rethinking the way consumers buy diamonds, fine jewelry and luxury watches. Brown continued, "We believe that luxury need not come at such a high price and that customers should feel educated and empowered with every purchase. Through our diverse arsenal of industry experts and unprecedented network of global buyers and sellers, we are dedicated to creating long-term change in the industry."
For more information about Gemma by WP Diamonds or to shop the site, visit
www.GemmaByWPD.com
.