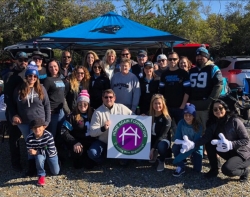 Charlotte, NC, November 15, 2018 --(
PR.com
)-- "There are 610,042 homeless in the United States and there are 1,476 in our area. Last year 37 people suffered on the streets of Charlotte. There are men, women and children that needs our help more than ever now," Rick Gilbert said.
Rick Gilbert, along with his wife and 2 children, is working with the local agencies that serves the homeless. For 22 years, his efforts have helped feed, house and foster relationships with hundreds of the local homeless population thru the program sponsored by the Urban Ministry Center. Rick, an upstate New York native, shows his passion to serve others and create opportunity through the Home Again Foundation by assisting the homeless.
"We believe in bettering quality of life in our community. It's not just important to help those in need, but its our duty as a growing company to help those less fortunate. Rick inspired me to get involved by disclosing his plans for building new homes in Charlotte. We are honored to be able to get involved and partner up with a foundation and group of individuals that are looking to better the community we live in," Poniatowski said.
"For almost 23 years now, I've always had the passion to help the homeless because of my daughter, Rachel. My family inspired me and continue to do so. We never really know how blessed we are till we compare the things that we take for granted in every day basis. Some of the homeless don't even have any food or water for days," Gilbert said.
New Age Marketing's mission is to help the Home Again Foundation reach their goal and build numerous houses to prevent homelessness in our community. Our goal is to provide a safe home for the families in Mecklenburg County, with the intention that this will help them build a foundation to better their lives and the lives of those around them. New Age Marketing plans to continue to contribute to the ongoing effort to help those and give back to the community.
To Learn more about New Age Marketing visit www.newagemarketinginc.net
To Learn how you can help visit www.homeagainclt.org