Acquire Donates to Local Food Bank
Acquire gives back to the local Raleigh community by donating canned foods and other goods to the Food Bank of Central and Eastern North Carolina.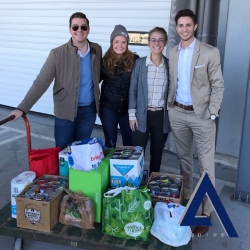 Raleigh, NC, November 19, 2018 --(
PR.com
)-- With the holiday season in full swing, it can be easy to get wrapped up in checking off gifts to be purchased, finalizing travel plans, and narrowing down which holiday events to attend. As the Acquire staff began their own seasonal preparations, they felt compelled to contribute to less fortunate families in their local community of Raleigh, NC. Finding an honest, trustworthy organization to work with can be difficult in today's society, but once Acquire discovered the Food Bank of Central and Eastern North Carolina, they had no concerns.
Founded in 1980, the Food Bank of Central and Eastern North Carolina was the first food bank in the state and was originally known as the Community Food Bank. Now, over 35 years later, The Food Bank has provided food for the homeless and others in need throughout 34 different counties in the Raleigh Triangle area. From 2014 to 2015, the nonprofit organization was able to distribute more than 57.2 million pounds of food and other necessities throughout the Raleigh community with the help of local agencies such as soup kitchens, food pantries and shelters. While organizations like the Food Bank are grateful for the agencies assisting with the distribution of collected goods, the Food Bank also relies on the help of local citizens and businesses such as Acquire to make donations.
"Community is what we've tried to build here at Acquire. A culture of caring, leadership, and good character is something we have genuinely tried to achieve within our Raleigh based company. With that being the case, we feel that in this season of giving thanks, it is equally as important to give back to those within our community who are without the support that we are so blessed to experience on a daily basis. This season, we at Acquire are not only thankful for our own blessings, but also for organizations such as the Food Bank of Central and Eastern North Carolina that provide ways for us and many others to make a positive impact on our local area." –Sr. Director of Operations at Acquire, Grant Gulledge
National Director of Operations at Acquire, Zack Schuch, is notorious for giving back to his hometown community of Raleigh and enjoys getting his staff engaged as well, in hopes of making a larger impression. Since becoming a parent earlier this year, Schuch has shown interest in getting even more involved with philanthropies that not only aid impoverished adults but also children.
"It's been extremely impressive to see our team come together the way they have for such an amazing cause. Each person here brought something to the table, which has made an unbelievable impact! As cliché as it may sound, there's just something about the holidays that makes you want to give back as well as count your own blessings and with this holiday season being my first as a father, I know that my family and I have even more to be thankful for this year." -National Director of Operations at Acquire, Zack Schuch
As the number of people in need and at risk of hunger continues to rise, there are more than 605,000 people who are without the essentials to live an active, healthy life day to day. The tone of the entire Acquire team, along with the smiles on their faces, spoke volumes to the excitement and passion they have about contributing to their community in an effort to lower that growing statistic. Aside from their contributions, Acquire's passion alone is inspiring and has not only made a strong impact, but has also helped the Food Bank of Central and Eastern North Carolina get closer to fulfilling their mission to let "no one go hungry."
For more information about the Food Bank of Central and Eastern North Carolina and ways you can donate visit their website at
www.foodbankcenc.org
.
To learn more about the Acquire team, their philanthropic efforts, community outreach and company culture, visit their website at
www.acquireraleigh.com
. Acquire can also be found on all social media outlets and is located on the 12th floor of the SunTrust/AllScripts building off of I-440/Wade Ave in the North Hills area of Raleigh, NC.
Contact
Acquire
Julie Banks
(919) 817-1418
acquirerdu.com

Contact