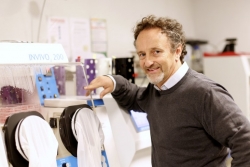 New York, NY, November 22, 2018 --(
PR.com
)-- The research on "Sunitinib Stimulates Expression of VEGFC by Tumor Cells and Promotes Lymphangiogenesis In Clear Cell Renal Cell Carcinomas" was conducted by Maeva Dufies, Sandy Giuliano, Gilles Pagès and team.
According to the National Cancer Institute (NCI), cancer is defined as a collection of diseases in which abnormal cells can divide and spread to nearby tissue. The definition suggests cancers can arise in many parts of the body and in some cases spread to other parts of the body through the blood and lymph systems.
Sunitinib is an antiangiogenic therapy given as a first-line treatment for renal cell carcinoma (RCC). Renal cell carcinoma comprises 85% of kidney cancers and 3% of adult cancers. Due to its rise, early diagnosis is necessary. The main treatment is surgery.
Dufies, Giuliano, Pagès and team decided to base their research on this. They observed that metastatic RCC had a poor prognosis. This was due to an intrinsic resistance to radio and chemotherapy. It was seen that the prime feature of RCC was hypervascularization, which was further explained by an overexpression of VEGF.
They have used the systemic therapy for first-line metastatic RCC viz., sunitinib, a tyrosine kinase inhibitor (TKI) with activity against the VEGF receptors.
However, Dufies, Giuliano Pagès and team assessed that the treatment benefits were transitory and most patients developed resistance after one year. They saw an improvement in progression-free survival was brought about by treatment, however relapse was also found to be inevitable.
In the course of their study, they have described the molecular mechanism linking the sunitinib treatment to lymphangiogenesis activation through stimulation of VEGFC gene transcription and stabilization of VEGFC mRNA.
The team saw that sunitinib was the main factor behind the growth of lymphatic endothelial cells. It also stimulated VEGFC and a VEGFC-dependent development of lymphatic vessels in experimental tumours.
After closely examining the above, the researchers felt that their observations may explain their results of enhanced lymph node invasion and new metastatic sites in 30% of the sunitinib-treated patients and the reason for the increased lymphatic vessels found in 70% of neoadjuvant treated patients.
Dufies et al used established and primary patient RCC cell lines that they developed with great precision in collaboration with the surgery department of the Nice Hospital. They did this to examine the relationship between tumour growth potential and VEGFC production. The results suggested a general mechanism by which drugs that target angiogenesis (either directly or indirectly) induce VEGFC expression by tumour cells.
Later, in their research, they inferred that "Thirty-five per cent (7/20) of patients that were treated with sunitinib developed lymph node metastasis and new metastatic sites, whereas patients treated with other therapeutic options did not."
Their results were found to be consistent with those of Sennino and colleagues who had described VEGFC induction in response to antiangiogenic drugs in a mouse model of pancreatic tumours.
Dufies, Giuliano and Pagès et al have finally deduced that even though sunitinib has changed the game and revolutionized the patient care, it's potential can be further catalysed by targeting VEGFC-dependent development of the lymphatic network. According to Dufies et al, the aforementioned was a major route of spread of tumour cells especially when the patient stopped responding to therapy.
A well-known fact is that every sixth death in the world is due to cancer, making it the second leading cause of death (second only to cardiovascular diseases). In 2016, 8.9 million people are estimated to have died from the various forms of cancer.
Therefore, this study by Dufies, Giulaino and Pagès et al comes at a highly critical time in this era. The medical world can incorporate the findings of this study in the course of their treatment to cure this deadly disease.