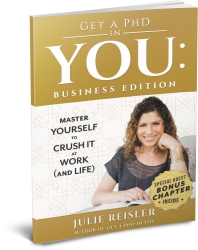 Baltimore, MD, November 29, 2018 --(
PR.com
)-- Whether or not you realize it, you are in the you business.
Learn to master what it takes to empower yourself, own your career, and achieve the success you deserve from an appreciative and strength based lens.
In "
Get a PhD in YOU: Business Edition
," author Julie Reisler (CEO of Empowered Living and Host of The You-est You Podcast), outlines just how you can leverage principles used by nature itself--to master your habits, your thoughts, and your personal strengths--to crush it in the workplace (and life). Rather than focusing on where you are lacking, you will use the Appreciative Inquiry PHD framework to reframe your career and life.
In this insightful and inspiring life and career guide, you'll learn how to:
- Measure and increase your Return on Investment (ROI) when you invest in you
- Learn to become your You-est You®
- Conduct Research & Development on yourself, and improve on what you bring to the table
- Use the surprising power of your words, to support yourself in being successful
- Change and manage your personal energy, and positively impact your life and your career
For readers who enjoyed books such as "How Successful People Lead" (John Maxwell), "7 Habits of Highly Effective People" (Stephen Covey), "You are a Badass" (Jen Sincero) and "The Soul of Success" (Jack Canfield), Reisler's "Get a PhD in YOU: Business Edition" is a must-read and will become a treasured part of your career- and self-improvement library.
Purchase your copy today and also get access to the powerful free training, The ROI of Investing in You, 3-part video series valued at $49.99. Start embracing the success you were meant to have.
Julie Reisler is an Author and Life Designer®, as well as the founder and CEO of Empowered Living--a Life Design and personal development company. She is host of The You-est You®podcast, is a teacher on the popular meditation app Insight Timer, and has been invited to speak for TEDx on multiple occasions.