Universal Declaration of Human Rights 70th Anniversary Rock for Human Rights Concert
Wil Seabrook is a singer/songwriter that created Rock for Human Rights. He tours with his band to bring awareness to the 30 Human Rights created by Eleanor Roosevelt and delegates of the United Nations.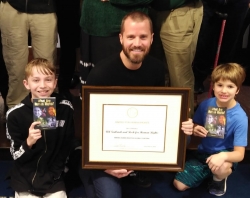 Atlanta, GA, December 12, 2018 --(
PR.com
)-- The Church of Scientology Atlanta held a Rock for Human Rights concert that spot-lights awareness to an international movement for human rights. In commemoration of the 70th anniversary of the Universal Declaration of Human Rights, the Church of Scientology Atlanta held a special concert featuring Human Rights activist and musician Mr. Wil Seabrook. He introduced advocates of all ages to the subject of human rights for International Human Rights Day 2018. Attendees saw interactive visual displays on several human rights, in addition to Mr. Seabrook reading easy-to-assimilate materials and singing his own songs that address Human Rights, with a focus on Human Rights #1 "All human beings are born free and equal...", #4 "No one shall be held in slavery or servitude...", and #25 "Everyone has the right to a standard of living adequate for the health and well-being of himself and of his family, including food, clothing, housing and medical care..."
Human Rights day commemorates the United Nations adoption in 1948 of the Universal Declaration of Human Rights--the world's premier human rights document. Despite the best intentions of those who crafted the Declaration, 70 years later, the UN recently pointed out, "Disrespect for basic human rights continues to be widespread in all parts of the globe. Extremist movements subject people to horrific violence. Messages of intolerance and hatred prey on our fears. Humane values are under attack." Helping support the UN and spread the word of the Universal Declaration of Human Rights is the Church of Scientology with United for Human Rights and Youth for Human Rights outreach programs.
Human rights are an integral part of the Scientology religion. The Creed of the Church of Scientology, written in 1954 by Scientology Founder L. Ron Hubbard, begins: "We of the Church believe: That all men of whatever race, color or creed were created with equal rights." While the Code of a Scientologist calls on all Scientologists "to support true humanitarian endeavors in the fields of human rights." The Church of Scientology and its parishioners support United for Human Rights, the world's largest nongovernmental human rights education campaign, active worldwide and partnering with 1,500 groups and organizations. The initiative is inspired by Mr. Hubbard's conviction that, "It is vital that all thinking men urge upon their governments sweeping reforms in the field of human rights."
Contact
Church of Scientology
Deborah MacKay
770-394-4414
www.scientology-atlanta.org

Contact