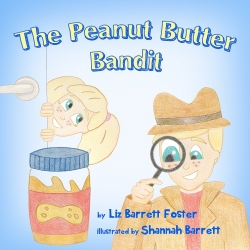 Sardis, MS, January 03, 2019 --(
PR.com
)-- New Idea Publishing and author Liz Barrett Foster have released "The Peanut Butter Bandit," a young children's picture book about a mysterious peanut butter thief. In the book, siblings Phillip and Susie must work together to solve the mystery of who has been eating their favorite snack before it's too late. They search high and low before discovering a surprise they never expected.
Foster, a seasoned food writer, is best known for the popular EatingOxford.com blog that she ran from 2009 to 2015, her work with PMQ Pizza Magazine and her pizza history book, Pizza: A Slice of American History. For her newest book, "The Peanut Butter Bandit," Foster recruited her sister, Shannah Barrett, an actress in Los Angeles, for the book's delightful illustrations. "The Peanut Butter Bandit is my first children's book, so teaming up with my sister made it all the more special to me," says Foster. "I knew my sister could draw, but I was surprised by how well she was able to bring the characters to life."
Fun facts about peanuts and peanut butter are shared in the book through a promotional partnership between Foster and the National Peanut Board. "Through my writing and traveling, I'm always learning something new about food," says Foster. "I thought it would be fun to add some interesting peanut facts into the book, and I was so excited when the National Peanut Board agreed."
Amazon reviewers have been saying: "It's very well written and the illustrations bring the book to life even more," and, "My 9-year-old loved this book and I'm sure your children will too."
"The Peanut Butter Bandit" is available for purchase on
Amazon.com
. Signed copies are available directly from the author.
Liz Barrett Foster is a member of the Society of Children's Books Writers and Illustrators (SCBWI) and an award-winning journalist who has authored more than 1,000 articles. Find out more about Foster at lizbarrettfoster.com.