Tonia DeCosimo Interviews and Features the Revolutionary Bobbi Brown for the Winter 2019 Issue of P.OW.E.R. Magazine and PowerWOE.com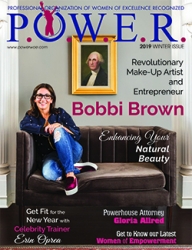 Manhasset, NY, January 29, 2019 --(
PR.com
)-- Bobbi Brown has been honored and featured as a Woman of Excellence on the cover of P.O.W.E.R. Magazine (Professional Organization of Women of Excellence Recognized) and on PowerWOE.com. She is an entrepreneur, makeup artist, author and speaker and well known for revolutionizing makeup by introducing the natural color line during a time when bright colors were the rage. Bobbi is the owner of Beauty Evolution LLC and is the owner of The George, a boutique hotel in Mont Clair, New Jersey.
About Bobbi Brown
Tonia DeCosimo, president and editor of P.O.W.E.R Magazine, is proud to spotlight such an empowering woman on the cover of the winter issue. Bobbi Brown has revolutionized beauty through her color palate of natural tones.
Bobbi Brown is a beauty industry titan, world renowned makeup artist, best-selling author, sought-after speaker, and serial entrepreneur. As a professional makeup artist, Bobbi created 10 simple lipsticks that evolved into a global beauty empire. She has written nine beauty and wellness books, many of them New York Times bestsellers, and has launched Beauty Evolution LLC since leaving the eponymously named Bobbi Brown Cosmetics in October 2016.
At a time when stark contours and shiny red lips were in fashion, Brown designed cosmetics to highlight a woman's natural look, and introduced Bobbi Brown Essentials in 1991. This line of color cosmetics revolutionized the industry. The original brown-based lipstick shades offered a simple way for all women to embrace and highlight their lips. Other groundbreaking products soon followed. Bobbi's philosophy is straightforward: "Women want to look and feel like themselves, only prettier and more confident."
In 1995, Bobbi Brown Cosmetics was acquired by The Estée Lauder Companies, where Bobbi served as Chief Creative Officer, building a billion-dollar brand.
Unwilling to rest on her laurels, Bobbi has returned to her roots as an entrepreneur. Her latest endeavor is EVOLUTION_18, a line of lifestyle-inspired wellness products that launched on QVC in the spring of 2018. Another, justBobbi.com, also launched this past spring, is a platform for Bobbi to share many of her life inspirations. In addition, Bobbi and her husband Steven Plofker recently opened and redesigned The George, a 32-room design-inspired, boutique hotel in Montclair, New Jersey.
Bobbi's gift for translating trends into real-life applications has made her a sought-after expert on television, in magazines and newspapers, and online. Bobbi's message resonates with diverse audiences. She is the Beauty & Lifestyle Editor of Elvis Duran and The Morning Show, and she continues to work editorially, penning columns for Charlotte's Book, Purewow, and Naturally, Danny Seo.
Born in Chicago and a graduate of Emerson College, Bobbi's entrepreneurial impact extends beyond fashion and beauty. She has received the Glamour Woman of the Year Award, The Fashion Group International Night of Stars Beauty Award, and The Jackie Robinson Foundation's ROBIE Humanitarian Award, to name a few. She was appointed by President Obama to the Advisory Committee for Trade Policy and Negotiation and has been inducted into the New Jersey Hall of Fame. She also holds honorary doctorates from Montclair State University, Fashion Institute of Technology, Monmouth University, and Emerson College.
About P.O.W.E.R. Magazine (Professional Organization of Women of Excellence Recognized) and PowerWOE.com
P.O.W.E.R is a website as well as a digital and print magazine featuring celebrities and everyday hardworking professional women. Our mission is to provide a powerful network of empowering women who will mentor and inspire each other to be the best they can be. Through our valuable services, our members can collaborate with like-minded professionals, gain recognition and obtain knowledge from those who have already achieved success.
Contact
P.O.W.E.R. (Professional Organization of Women of Excellence Recognized)
S. K. Koop
516-365-3222
www.powerwoe.com
Ellen Gold

Contact