Celebrate a Wardrobe Refresh for Spring/Summer 2019 with the Bespoke Services of My Custom Tailor
From suits to separates, the Master Tailor at My Custom Tailor provides amazingly personalized, bespoke custom made garments for work, events or everyday use.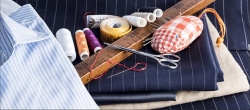 New York, NY, January 28, 2019 --(
PR.com
)-- Looking for the best way to get suited up in 2019? My Custom Tailor is offering new styles and designs for the upcoming season. With various options to personalize your selection, My Custom Tailor's garments stand apart from others for their commitment to quality and luxury. Presentation is everything and the value of a good suit never goes unnoticed. Utilizing innovative technology, My Custom Tailor aims to provide its customers with suits and separates that are fun, unique and affordable.
You can take advantage of their great new deals online at www.MyCustomTailor.com - go to the
Special Offers page
- or in person by making an
appointment with the Master Tailor
at one of
My Custom Tailor's Travelling Tailor Roadshows
.
Get measured by the Master Tailors in person; appointments are now available throughout March 2019.
New offers available:
For Men:
The Money Man's Deal Deluxe Suits -
3 Deluxe Suits, a Dozen Classic Cotton Shirts and 3 Neckties
Now only USD $1410 for the package
The Money Man's Deal includes handmade business suits from the Deluxe Collection and Custom men's dress shirts from the Classic Collection. Men can customize their tailor-made jackets to be slim fit, comfortable fit, straight fit; they can include hand sewn pocket edges, padded shoulders, among other features. Among the distinctive patterns offered for the shirts and suits are pinstripes, contemporary stripes, alternate subtle stripes, multi colored wide stripes, bold stripes, tone on tone diamond net pattern, Devonshire stripes, atomic dots, micro polka dots, muted stripes, etc. Personalization options extend to the fabric, style and color to your liking. You may also use their special request feature to indicate any changes or special requests to your custom piece.
The Men's Shorts Summer Sale -
6 Custom Made Shorts and 1 Belt From the Classic Collection
Currently on sale for USD $555
The made to measure shorts are available in 7 different styles, and various fabrics and colors. These cotton shorts can be made with wool, silk, Lycra, and many other fabrics to be stretchable, wrinkle free and lightweight. There is the option to choose between multiple features and patterns like, standard reverse double pleats, slash pockets, two back pockets, turned up cuffs, extended belt loops, two point button and hook closure with a zipper fly, flat front, Levi style pockets, two buttons through back pockets, hand sewn cuffs and hems, cutaway flapped cargo pocket with Velcro on both sides, tonal stripes, traditional stripes, tone on tone framed stripes, tone on tone inch stripes, tone on tone chalk stripes, denim self stripe pinpoint, etc. The belt offered with this ensemble can also be customized with as many punch holes as you like, to help the belt sit absolutely right on your waist.
For Women:
The Summer Skirts Offer -
4 Skirts and 1 Belt from the Women's Classic Collection
Now only USD $460
These four stylish custom tailored skirts for women can be used for stunning formal wear and/or casual party wear. Features can include: low waist, Levi style pockets, small waistband with narrow belt loops, ruffled hems, pleated fronts, wide waistband with extended belt loops, concealed back or side zipper, elastic waistband, hand sewn hems, flared style, no waistband, pleated at hems, slanted pockets, inch stripes, denim self stripes, pinpoint, houndstooth tweed pattern, flower pattern, subtle contrast stripes, bankers stripes, classic English stripes, Italian inch stripes, tone on tone framed stripes, check pattern, cross stripes, designer stripes, beaded and pearl stripes, herringbone and stripes on wool, etc. The belt can also be customized to be narrow as well as broad with as many punch holes as you want.
3 Blouses, 3 Skirts and 3 Scarfs from the Classic Collection
Now only USD $595
The handmade women's skirts in this Classic Collection package can include pencil skirts, A line skirts, calf length skirts, knee length skirts and many more. The women's skirts can be customized with flat fronts, reverse double pleats, ruffled hems, flapped pockets, zip closure, side pockets among many other features. The women's tailor made blouses can be slim or comfortable fit with Ainsley collars, notch lapel collars, shawl collars, matching buttons to close, welt pockets, embroidered sleeves, epaulettes, boutonniere on sleeves cuffs and much more. The custom made scarfs can be customized in various designs, styles and patterns. Each piece in this Classic Collection ensemble can have patterns like cross stripes, contrast stripes, tone on tone stripes, etc. The tailor-made garments can be made with wool, cotton, silk, linen, cashmere, and various other fabrics of your choice. Customers can also select their garments to be made with wrinkle proof and iron free fabrics.
Take advantage of a free fitting session today. Upcoming dates available below:
Los Angeles, CA
27 January 2019 - 28 January 2019
Nashville, TN
23 January 2019 - 26 January 2019
Los Angeles, CA
07 February 2019 - 09 February 2019
San Francisco, CA
10 February 2019
Oakland, CA
11 February 2019
Denver, CO
12 February 2019
Salt Lake City, UT
13 February 2019
Rapid City, SD
14 February 2019 - 19 February 2019
Chicago, IL
20 February 2019
Boston, MA
21 February 2019
New York, NY
22 February 2019
Arlington, VA
23 February 2019
Washington, DC
24 February 2019 - 25 February 2019
Baltimore, MD
26 February 2019
Houston, TX
27 February 2019
Dallas, TX
28 February 2019 - 02 March 2019
Contact
My Custom Tailor
Richard Dawson
1-646-257-5886
MyCustomTailor.com

Contact