Aventura Corporate Campus Expands Its Footprint in the Technology Office Sector with an Investment of Over $5 Million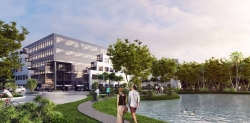 Aventura, FL, January 23, 2019 --(
PR.com
)-- Aventura Corporate Campus, a Renaissance Property, in Aventura, Florida, with over 252,244-square-foot of Class A office space, at 20801, 20803, and 20807 Biscayne Boulevard, is further expanding its footprint in the technology office sector with an investment of over $5 million.
The vision of Kenneth Fishel, owner of Renaissance Properties, was to further expand on the value proposition of the property by updating the facility to support the growing technology sector in Aventura, Florida, a growing tech hub.
Fishel has gathered an award winning design team to renovate and provide a state-of-the-art work center. Miller Druck (millerdruck.com), who worked on the iconic Grand Central Station in NY. Miller, with expertise in restoring historical buildings, was selected to provide the incredible, delicate stone, that would cover the hallways, lobby entries, and outside entry ways.
Thoughtful workplace redesigns, by Inaki Muguruza, from Insight Designs, of Miami, Florida, crafted spaces to increase work performance, in combination with lakefront stations, electrical charging stations, a redesigned café with outdoor eating and work stations, specialty lighting for increased work performance, redesigned elevators, and a new conference facility.
"No marble stone has been left unturned, to complete the vision for the Aventura Corporate Campus," said Ken Fishel, Owner of Renaissance Properties. "The strategic investment in building improvements, with a focus on enhancing work performance is already showing signs of success with existing and future tenants."
Tenants have shown an increase usage of outdoor workspaces that are centrally located at the perimeter of the lake center. Office spaces with open glass work areas are supporting more business interactions and positive work results.
As Fishel says, "Ideas come from working together, not in a silo."
"We believe that the next phase of Aventura Corporate Campus can be a powerful tool for supporting employee performance through artfully designed spaces, in state-of-the-art facilities," said Fishel. "And a collateral benefit is that what typically supports productivity also enhances employee health and wellness – it's all interrelated."
Fishel's focus on behalf of Aventura Corporate Center is to create office spaces that empower and are a strategic tool for growth.
Renaissance Properties, founded in 1961, has overseen primary holdings of more than one million square feet of commercial and residential luxury space throughout New York and Aventura, Florida.
Contact
Renaissance Properties
Maria Gomez
305-891-7987
aventuracorporatecampus.com

Contact