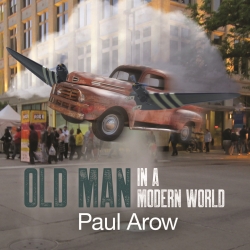 Phoenix, AZ, January 21, 2019 --(
PR.com
)-- Check out Paul Arow's new album Old Man In a Modern World. This album takes you through an eclectic renaissance journey using stories and imagery. The lyrics embrace adventures of old lore, fantasy, love, and spirituality. The music shifts through flavorful harmonies and vintage sounds.
The tracks Included on Old Man In a Modern World are as follows:
Old Man In a Modern World 02:50
Slay the Dragon 03:51
Comin' Home to my Baby 03:02
Jesus Will Never Forsake Me 03:24
Mercenary 03:59
Russian Lullaby Song 03:09
You Set Me Free 03:40
Spiritual Man (Goin' Home) 03:45
You Have Made It Real 03:09
Everybody Needs Love 03:12
Old Man In a Modern World is available on iTunes and Spotify. Watch Paul Arow's videos on YouTube. Search YouTube "paularow2."
Paul Arow is a gifted singer/songwriter who arranges and produces quality music. The music is easy-listening, country rock, blues and light rock written in a classic style.
Paul Arow's previous released album is titled Life Blood.
Follow Paul Arow @paularow2 on Instagram.
Website: paularow.com