QualityWorks Cops Top Clutch Awards for 2018 as a "Top Software Application Testing Firm"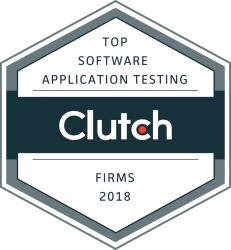 Los Angeles, CA, January 23, 2019 --(
PR.com
)-- The California-based agile software consultancy firm, QualityWorks Consulting Group, has copped a top spot in the 2018 Clutch Awards, ranking among the "Top Software Application Testing Firms."
The award was presented in light of the company's excellent track record of providing industry-leading services that focus on enabling clients to continuously deliver higher quality software. As a global provider of solutions in Mobile and Web Test Automation, Custom Software Development, Agile Coaching and DevOps consultancy, QualityWorks has experienced significant success working with companies in the US, Europe and the Caribbean region.
Their work across the healthcare, finance and entertainment industries has had sustainable impact on clients such as Fandango, National Commercial Bank and Children's Miracle Network, saving them thousands in resource costs and inevitably decreasing their time to market. Some of their most notable work with these clients include performance testing, functional and non-functional test automation and penetration testing.
Stacy Kirk, C.E.O of QualityWorks shared, "The success of our clients has always been our priority. We are proud to have earned a spot among the top software testing companies, specifically in Test Automation. At QualityWorks, we appreciate the attention to detail and this is why we take this recognition so seriously. My team and I are dedicated to filling the technological gaps for all our clients by optimizing not only their software but also boosting team and process efficiency."
Here's a highlight of the testimonials that were on Clutch for QualityWorks:
"When we were first looking to automate our processes, there was no question in letting QualityWorks take the lead. Everyone trusted the quality of work provided by them."
- Information Security Officer, Ticketing Company
"Ours was a quite technical project, and QualityWorks was able to understand it quickly."
- Director of QA, Legacy.com
"They provided good value to our internal team through leadership, communication, project management, and superior capabilities."
- Senior Director of Product Management
About QualityWorks
QualityWorks is an international software consulting company that provides end-to-end solutions focused on the continuous delivery of high-quality software through automation. Our services include custom software development, all aspects of software testing as well as team and process optimization through Agile and DevOps transformation. What makes us unique is that we are more than just brilliant technologists, we are coaches who focus on team capacity building. We enable our clients' internal teams to improve their process and accelerate software delivery. Our coaches also provide industry-leading agile process improvement training and conduct organizational assessments focused on cybersecurity, QA, and DevOps. At a minimum, we save our clients' thousands in resource costs and inevitably decrease their time to market.
To learn more about QualityWorks and the services offered, visit: https://www.qualityworkscg.com
Contact
QualityWorks Consulting Group
Janice Alexander
(876) 667-2327
http://www.qualityworkscg.com

Contact