Arab American Cultural Society (AACS) Rallied Local Businesses, and Sponsors to Provide Support to Local TSA Workers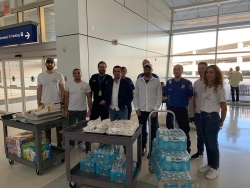 Dallas, TX, January 28, 2019 --(
PR.com
)-- Saturday, January 26th members of the Arab American Cultural Society visited with DFW airport's TSA workers; they provided 140 meals, and $1200 worth of gift cards to offer some sort of relief during the government shutdown.
AACS partnered with local businesses to help sponsor the relief effort. Fadi's Mediterranean Grill, Sultan Cafe, Fenjani Mediterranean Grill, Sanabels Restaurant, El Rio Markets, and Kwik Kar, were among those who donated food and gift cards to the workers.
AACS acknowledges that this is a very difficult time for workers affected by the government shutdown. This was a small way of showing the federal workers, how much they are appreciated. Without them, our safety and security would be compromised.
"We understand and we realize that there's a need," said Hassan Bawab, president of the Arab American Cultural Society.
After meeting with TSA workers, it was realized that with the temporary opening of the government, it still may take weeks before they see a paycheck. There is also uncertainty, with fear of another shutdown in the near future.
"Some of them are saying it might be three weeks until they actually get paid. That's when his three-week trial period ends, so they're afraid they might get paid and then the shutdown is going to happen again," said Fatina Ozzie, vice president of the Arab American Cultural Society.
AACS is committed to continuing to be a resource, and support for federal workers.
Arab American Cultural Society (AACS) is a social and cultural organization that encourages, strengthens, and supports the Arab American rights in the United States.
AACS strives to preserve and promote Arab culture in a thriving and accessible manner among Arab Americans by fostering political participation in the American system and raising awareness of the Arab culture among the American public.
Contact
AACS
Hassan Bawab
972-900-1166
www.aacstx.org
President of AACS

Contact