Luxury Hotels Team Up with Ecuador Freedom Bike Rental to Create a New High-End Road Trip
New "Lap of Luxury" Self-Guided Adventure Tour in Ecuador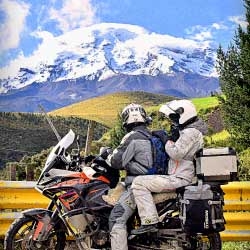 Quito, Ecuador, January 29, 2019 --(
PR.com
)-- During a decade of living, working and adventuring in South America, the crew at
Ecuador Freedom Bike Rental
has single-handedly turned a small Andean nation into a new mecca for motorcyclists. Ecuador has emerged as one of the most exciting and intriguing destinations for motorcycle tourists with thousands of visitors each year experiencing its twisty roads, high Andes mountains, Pacific Coast and Amazon jungle on two wheels. This year, the Quito-based tour operator will take adventure to a whole other level by partnering with Ecuador's highest-quality hotel and haciendas to offer a new self-guided tour of the country called "A Lap of Luxury."
The 11-day, 1300-mile lap of the country is designed for adventurous spirits, curious minds and worldly travelers who enjoy the finest standards in hospitality while enjoying world-class motorcycling on some of the best roads in the Western Hemisphere. Riders are provided a map and GPS navigation system with pre-programmed routes for each day, a luxury, 5-star hotel to aim for each night and plenty of time to experience unique cultural and gastronomical stops along the way. Ecuador Freedom provides a fully-equipped adventure motorcycle or 4x4, plus a "Road Book" with thorough, day-to-day information including descriptions of local highlights, history, and "hidden gems" that aren't common knowledge. Participants will use this information to tailor their days' rides, including as much or as little as they like, all the while having the support of the country's most experienced and largest motorcycle and 4x4 tour operator through the provided local prepaid cell phone.
"Motorcycle adventures are not just about the riding. We're thrilled to offer exciting road trips for motorcyclists and 4x4 enthusiasts of all price points so that they can live their dreams," explained Court Rand, Owner & Lead Guide at Ecuador Freedom. "This new luxury adventure tour makes Ecuador an option for those who enjoy European-quality accommodations and luxury along with the thrills of Ecuador's majestic landscapes."
The included accommodations along the way will introduce motorcyclists to Ecuador's diverse cuisines and its rich historical and natural heritage. The hospitality of each venue has its own unique regional character that is evident in every gesture. At the Tanusas Retreat in the coastal town of Boca de Cayo, Alain Ducasse-trained chef Rodrigo Pacheco takes clients on a short hike along the Pacific coast and in the bordering rainforest to source natural ingredients for the evening's repast. In the towering Andes, large estates built by the upper-class, mostly Spanish-descendant aristocracy, some going as far back as the 16th century, have recently opened to upscale travelers as elegant accommodations. Hacienda San Agustin de Callo, owned by the Plaza family who provided Ecuador with 2 presidents and a vice president, is built on the remains of a former Inca palace. While Mansion Alcazar - winner of two Condé Nast awards – is a restored president's mansion in the UNESCO world heritage city of Cuenca is another overnight stay.
The new self-guided tour is available year-round. Customers can depart any day of the week with advanced reservations. The self-guided tour includes an adventure-ready dual-sport motorcycle or 4X4 vehicle, motorcycle saddlebags or luggage, pre-programmed GPS, breakfast and dinner each day and a cell phone for 24-hour customer support. Prices start at $5,540. For more information: http://bit.ly/EcuadorLuxury
Contact
Ecuador Freedom Bike Rental
Court Rand
1-603-617-2499
http://FreedomBikeRental.com
In Ecuador +593 (02) 600-4459

Contact