FCP Euro Partners with Corteco for The 2019 TC America Championship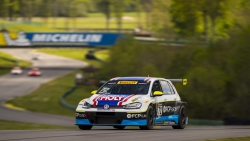 Milford, CT, January 29, 2019 --(
PR.com
)-- After a successful inaugural season finishing third overall in the TCR class of the Pirelli World Challenge, FCP Euro is partnering with Corteco for the re-branded TC America Championship in 2019. The team will again compete with their two 2018 Volkswagen GTI TCRs. FCP Euro's Marketing and Brand Director, Michael Hurczyn, will pilot the #71 while 2018 TCR Class Rookie of the Year and FCP Euro Director of Motorsport, Nate Vincent, will pilot the #72 towards their second season of professional touring car racing.
"FCP Euro provides a fun platform for Corteco to highlight its product offering in their race cars," says Corinne Ross, Commercial Director at Freudenberg-NOK. "FCP Euro is a great promoter of their key vendors. This opportunity came at a critical time for us, as we work to raise general brand awareness and a strong following for our OE products. FCP Euro won't sell you anything they wouldn't put on or in their own cars and Corteco shares those same convictions. Our pedigree in OE sealing, cabin air filters, and vibration control validates the claim that we extend that philosophy on toward our customers."
Excitement is high leading into the 2019 season for both Corteco and FCP Euro. The TC America Championship TCR class is splitting into two classes for the new season; the first being a full global-spec TCR class for cars with sequential gearboxes, and the second being a TCR Cup solely for the Audis and Volkswagens running DSG gearboxes. The FCP Euro Volkswagen GTI TCRs will be in the former category, after taking delivery of two brand-new sequential transmissions to compete with other manufacturers at the front of the pack for the top spot.
"We have coined 2019 as the 'Year of the Experience' at FCP Euro," explained Michael Hurczyn, Marketing and Brand Director for FCP Euro and the driver of the #71 Volkswagen GTI TCR. "We take our team on the road and look forward to meeting our customers from across the country who can't make it out to our local events. Our paddock is always open to anyone who wants to share this journey with us while we fight for the podium in the 2019 season."
Corinne Ross adds, "Motorsports is a new avenue with massive growth potential that Corteco can take advantage of. We look forward to being in front of FCP Euro customers and enthusiasts who share in the total experience during the race weekends. FCP Euro brings energy to every event they're at; their booth was consistently one of the busiest during last years Pirelli World Challenge, and will be a staple in TC America paddock this year. They were extremely competitive in their inaugural season and the opportunity to sponsor a winning team for this upcoming season was too great to pass up."
The FCP Euro GTI TCRs are blank canvases awaiting new liveries to represent their 2019 TC America partners.
For more information and to stay up-to-date on race team updates, visit race.fcpeuro.com.
FCP Euro Media Contact: Evan Madore, Staff Writer - evan.madore@fcpeuro.com.
About FCP Euro
FCP Euro is an online retailer of Genuine, OE, and OEM auto parts for European cars, specializing in BMW, Volvo, Audi, VW, Mercedes, and Porsche parts. Since 2001, FCP Euro has raised the bar for service and quality in the automotive industry and has become recognized by enthusiasts as the premier source for OEM and Genuine car parts. With a Lifetime Replacement Guarantee on all parts, Hassle-Free Returns, and free shipping on orders over $49, FCP Euro has continuously challenged the boundaries and advanced the standards of quality, service, and technology in the automotive industry. For more information, visit www.fcpeuro.com.
About Corteco
Corteco is one of the leading suppliers of components for the Independent Automotive Aftermarket. As a member of the global Freudenberg Group, we supply over 26,000 products in OEM quality. Independent garages trust in Corteco spare parts and therefore benefit from the original quality made by Freudenberg. Corteco has manufacturing plants/ distribution centres in over 17 different countries, but through the Freudenberg Group, we reach customers in 60 countries around the world. For more information, visit www.Corteco.com.
Contact
FCP Euro
Evan Madore
1-877-634-0063
www.fcpeuro.com

Contact