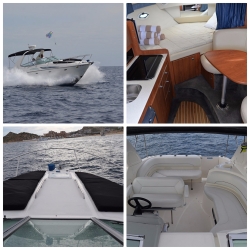 Cabo San Lucas, Mexico, January 31, 2019 --(
PR.com
)-- Cabo Yacht World, a local yacht rental company, is offering affordable whale watching tour packages to travelling tourists in Cabo San Lucas, ensuring they don't miss the 2019 Cabo whale watching season.
The 2019 whale watching season in Cabo San Lucas has entered its peak. Like every year, more than hundreds of thousands of tourists have travelled to the city to treat themselves to one of the most unique and enthralling whale watching experiences in the world. Entertaining them are large cetaceans, including humpback whales, gray whales, blue whales and sperm whales making their way to the waters of Cabo to breed and calve. It's a chance to watch these gentle giants from close that no one wants to miss out on.
Cabo Yacht World is a Los Cabos-based yacht rental company. It provides luxury boats and yachts on rent and organizes
whale watching tours
for groups and families in Cabo San Lucas. Speaking about the company's 2019 whale watching tour program, a Cabo Yacht World spokesperson said, "It's turning out to be one of the most successful whale watching tour programs for Cabo Yacht World. We've received more than four hundred tour requests so far. And, since the whale watching season has now entered its peak, we're expecting more calls in coming weeks. Our team has worked quite hard to provide even better services to customers this year. They've updated and upgraded the fleet and have tried to set package prices as low as possible to make them affordable for all."
To facilitate increased tour requests during the peak season, the company has also increased departure times.
"For the first time ever in the history of our company, we've decided to increase departure times so that no one misses out on the action that's happening in the deep waters of Cabo," concluded the spokesperson.
Interested customers can book their whale watching tour by visiting the company's official website.
About Cabo Yacht World
Cabo Yacht World has more than a decade of experience in nautical tourism in the Los Cabos region, Mexico. The company offers a wide selection of luxurious yachts and fishing boats that come with the latest navigational technologies and tracking systems. The yachts are also equipped with professional crew, personalized chef and other amenities.
Website: https://www.caboyachtworld.com/
Facebook: https://www.facebook.com/caboluxuryyachcharters/
Twitter: https://twitter.com/caboyacht
Youtube: https://www.youtube.com/channel/UCxQxlf2UY_81fsySba8Mzcw