Spaulding Decon Opens Franchise in Galveston, Texas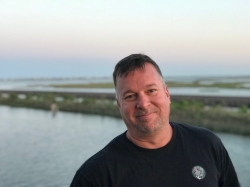 Galveston, TX, February 12, 2019 --(
PR.com
)-- Spaulding Decon, a nationally established leader in crime-scene cleanup, hoarding cleanup and meth lab decontamination, today announced it opened a new franchise location in Galveston, Texas this past October.
Galveston's new franchisee Chris Cotton is no stranger to getting his hands dirty, having spent two decades as an oil field diver. Impressed with the franchise opportunity and Spaulding Decon President and CEO Laura Spaulding, opening a new location was a natural transition for Cotton.
"There are some jobs that take a certain kind of person do them; however, I'm naturally drawn to them," stated Cotton. "As a Spaulding Decon franchise, no day is ever the same as the last and I can get my hands dirty all while helping people in need."
Prior to beginning business operations in October of 2018, Cotton received two weeks of training from Laura Spaulding at franchise headquarters in Tampa, Florida. During training, Cotton received hands-on instruction in both operations and technology with Spaulding Decon's proprietary estimating software. Business performance goals are also set along with budgets to start the new franchise on the path to success.
"Chris' background has prepared him well to successfully join the Spaulding Decon team, ready to handle any situation that arises," stated Spaulding. "We can't wait to see his franchise flourish in Galveston while he helps many in the community along the way."
Spaulding Decon's Galveston, Texas location serves the immediate area all the way to south Houston. Those interested in their local services can reach Chris Cotton via phone at: 713-300-9960.
About Spaulding Decon
Based in Tampa, Fla., Spaulding Decon is the only franchise in the country offering crime scene cleanup, hoarding cleanup, and meth lab cleanup as well as actively buying houses in cash. Spaulding Decon's unique real estate component provides their clients a way to get rid of the home and bad memories without being saddled with renovation and restoration. Spaulding Decon also specializes in water restoration after emergency flood situations. The company has been featured in the Wall Street Journal, Entrepreneur Magazine, and the Huffington Post among other national publications. For more information on this exciting franchise opportunity visit, visit Spaulding Decon or call 866-99-DECON.
Contact
Spaulding Decon
Rebecca Grissom
813-298-7122
www.spauldingdecon.com

Contact