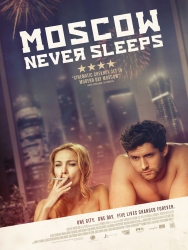 Los Angeles, CA, February 06, 2019 --(
PR.com
)-- Indican Pictures releases the first Irish and Russian co-production filmed in Russia, "Moscow Never Sleeps" for Valentine's Day. The film, like that famous holiday, involves dramatic settings of the Russian capital with infidelities, corruption, rebellion and fame. A mix of different lives converge in this sexy film as a corrupt businessman, sexy pop singer, aging actor, devoted wife, seductive mistress and provocative teen encounter power, showers and towers.
The film features a great international cast including, Lyubov Aksyonova (Jack Ryan, Salyut-7) Yuriy Stoyanov (12, The Golden Key), Evgeni Brik (Hipsters, Dark World 2), Aleksey Serebryakov (Leviathan, Cargo 200) and Mikhail Efremov (Antikiller, About Love) and comes off both a great international film festival run (Festivals include Moscow, Cork, Woodstock and Harlem), as well as theatrical releases in numerous countries including Ireland, Russia, U.S., Canada and more.
Critics have called the film "A Masterpiece" - Counterpunch.org, "A Slick, Sexy, Sophisticated film" - Village Voice, "This Year's Best Foreign Film" - Forbes and "A Cosmopolitan portrait of Moscow" - GQ Magazine.
Indican Pictures has set a date for the film's release that celebrates both cultures – Valentine's Day for the Yanks and Defender of Fatherland Day for Russians. "Moscow Never Sleeps" will be available on DVD and Video-on-Demand starting February 12th, 2019 nationwide across North America. Learn about this amazing city in vibrant color.
The film's official synopsis: Welcome to Moscow. With those words, an amazing journey begins for an entrepreneur whose business empire is under siege, a teenage girl trying to escape her life, a young man forced to choose between love and family, a singer torn apart by her love for two different men and an ailing film star embroiled in a bizarre kidnapping gone wrong! These stories connect, not only to each other, but shine a light on the cruelty and beauty of the Russian spirit in Europe's biggest city.
Release Date: February 12th, 2019 (VOD, DVD)
Director/Writer: Johnny O'Reilly
Cast: Lyubov Aksyonova, Yuriy Stoyanov, Evgeni Brik, Aleksey Serebryakov and Mikhail Efremov
More film details at Indican:
www.indicanpictures.com
Contact Randolph at Randolph@indicanpictures.com
Trailer:
www.indicanpictures.com/films/moscow-never-sleeps
About Indican Pictures:
Indican Pictures acquires and distributes feature films to a broad range of entertainment outlets by providing a diverse selection of movies across: theatrical, home video, TV, VOD, PPV and streaming platforms.