Veteran Technology Executive Opens Spaulding Decon Franchise to Serve Broader Philadelphia Region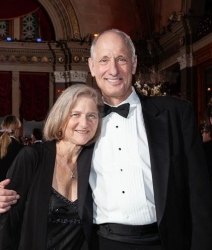 Philadelphia, PA, February 25, 2019 --(
PR.com
)-- Spaulding Decon, a nationally established leader in crime-scene cleanup, hoarding cleanup and meth lab decontamination, today announced its new franchise location serving the broader Philadelphia region. Jonathan Smolowe, a long-time technology executive, opened Spaulding Decon's Eastern PA and Central/Southern NJ franchise on November 1.
Prior to founding Spaulding Decon's Philadelphia's location, Smolowe spent four decades in the technology sector. Following 12 years working for IBM out of college, he worked for a variety of startups, bringing several from zero revenue to publicly traded. Yet, he reiterated that he has never felt so fulfilled as he has been during his few short weeks as one of Spaulding Decon's latest franchisees.
"The aspect I most enjoyed during my many years of building technology startups from scratch was creating something new that served a purpose. I've found that inspiration in spades with this new venture," stated Smolowe. "We've put together a phenomenal team here in the Philadelphia area. And I have already been overwhelmed by the immediate and powerful impact we have already had on people in need."
In preparation for the launch of Spaulding Decon's Philadelphia franchise, Smolowe received two weeks of intense training from Spaulding Decon President and CEO Laura Spaulding at franchise headquarters in Tampa, FL. During those two weeks, franchisees received hands-on training in both operations and technology with Spaulding Decon's proprietary estimating software. During the course of training, business performance goals were set along with budgets to get all franchisees started for success. Smolowe also received other important certifications prior to opening the office in water, mold, and lead remediation.
"Jonathan's enthusiasm is contagious, and the passion that he is bringing to his new endeavor sets his team up for tremendous success," stated Spaulding. "I can't wait to see how he grows and expands in the Philadelphia region!"
About Spaulding Decon
Based in Tampa, Fla., Spaulding Decon is the only franchise in the country offering crime scene cleanup, hoarding cleanup, and meth lab cleanup as well as actively buys houses in cash. Spaulding Decon's unique real estate component provides their clients a way to get rid of the home and bad memories without being saddled with renovation, and restoration. Spaulding Decon also specializes in water restoration after emergency flood situations. The company has been featured in the Wall Street Journal, Entrepreneur Magazine, and the Huffington Post among other national publications. For more information on this exciting franchise opportunity, visit Spaulding Decon or call 866-99-DECON.
Contact
Spaulding Decon
Rebecca Grissom
813-298-7122
www.spauldingdecon.com

Contact