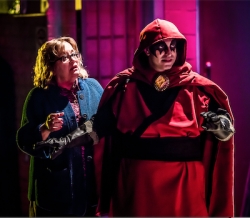 Los Angeles, CA, February 11, 2019 --(
PR.com
)-- He's mean. He's angry. He's dedicated to global destruction. If only he can get his mom home in time for dinner and Jeopardy, all will go as planned. Ah the challenges of balancing your dreams with real world responsibilities. Such is the story of supervillain, Dark Specter.
Since its introduction, the Dark Specter series has garnered praise and accolades for its unique take on the superhero genre. This dramedy has been called "delightful," "entertaining," and having "just the right amount of twists and turns."
In the first edition, we were introduced to the dynamic between the supervillain and his well-meaning, nagging mother who interrupts his battle with superhero, The Spark. In Dark Specter 2, we get to see more of the complexities of that relationship unfold. We also catch a glimpse into the mind of the Dark Specter, his true motives, and his identity struggle as he juggles being a supervillain and caring son.
Dark Specter 2 has been gaining momentum at film festivals across the U.S. It won in five categories of the Independent Short Awards including Best Web Series and Best Fantasy. Other awards include Best Fantasy Short at Indie Short Fest and Best Horror Short at 80 Screams International Film Festival.
Dark Specter is the brainchild of actor and screenwriter Bruce Nachsin. "The original idea came from a sketch I was working on in Fred Willard's MoHos sketch comedy group," says Bruce. "The concept went over so well that I started diving into the story further and eventually developed what would become Dark Specter."
With the success of Dark Specter 1, Bruce reached out to his old friend, long-time theatre director, actor, and fellow comic book nerd, Richard Tatum, to direct Dark Specter 2. "I don't think anyone has attacked a superhero story in quite this way," says Richard. "It's the kind of project I had been dying to try my hand at as a director. I mean, it had everything I could want - action, superheroes, comedy, and a lot of heart without pretense, and so I was thrilled at the opportunity to work on this with Bruce."
Eventually, the creators would love to see Dark Specter turned into a series and expound upon the storyline. For now, they are enjoying the positive feedback and will continue to present the Dark Specter at film festivals.
The trailer for Dark Specter 2 can be seen here:
https://youtu.be/gtrGDdKPd7U
Dark Specter 1 can be viewed on YouTube at: https://youtu.be/z2adWBBwcas
Public release of Dark Specter 2 is slated for April 2019. Over the next couple months, Dark Specter 2 can be seen at the following film festivals:
February 15th Crashlanded
Time/Room TBA
February 16th Geekfest, Longbeach Comic Expo
Richard will speak on panel from 1:30 – 2:30 PM
February 17th Geekfest, Longbeach Comic Expo
Screening 2:30 PM
February 22nd Pensacon Short Film Festival
Screening, 1:30 PM, Pensacola Little Theatre Courtroom
March 2nd Geekfest, Comic Con Revolution West Palm Beach
Screening, 11:30 AM, Room 1JK
March 12th Pasadena International Film Festival
Time/Room TBA
March 22nd Golden State Film Festival
Time/Room TBA
For further information about show times and locations, to book an interview with Bruce or Richard, or to coordinate press coverage, please contact Stephen at SMTentertainment@gmail.com. Updates on future film festival bookings will be posted at https://darkspecter.com and Dark Specter social media pages.