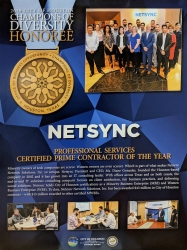 Houston, TX, February 12, 2019 --(
PR.com
)-- The City of Houston's Office of Business Opportunity recognized Netsync Network Solutions as its Professional Services Certified Prime Contractor of the Year. The city issued the award in response to Netsync's outstanding talent and effort supporting Houston as it embarks on remarkable technological upgrades across all sites. Netsync holds certifications from the City of Houston acknowledging its support of diversity, including Minority Business Enterprise (MBE) and Women Business Enterprise (WBE) designations. This additional distinction further underscores Netsync's unique standing as a woman and minority-owned organization with a commitment to promoting diversity in the workplace.
About Netsync Network Solutions:
Netsync is a HUB-certified, minority-owned, woman-owned, award-winning solution provider specializing in helping public and private organizations implement complex IT strategies. Based in Houston, Texas, with sales and engineering assets throughout Texas, California, Florida and Missouri, Netsync uses a true consultative approach to determine clients' requirements and architects innovative and synergistic IT solutions to meet their needs. Netsync is a Cisco Gold Partner with several specializations and Authorized Technology Partner designations. Additionally, Netsync has been consistently recognized by Cisco for excellence in customer satisfaction.
For more information, please visit
www.netsyncnetwork.com
.